We were thrilled to recently catch up with JMI alumni Erin Logan who completed JMI's Bachelor program in 2017! Erin has been in the Australian Army Band since 2018 and gave us an update on what she's been doing since graduating and how studying at JMI helped her towards her career goals.
Tell us a bit about yourself. What do you play?
Hi I'm Erin, I play saxophone and graduated from JMI in 2017.
What have you been doing since graduating from JMI?
I joined the Australian Army band in 2018 as a full time saxophone player and have been doing that for the past 4 years.  During this time I have added to my skill set in arranging and audio engineering as well.
What has been one of your biggest musical highlights in your career thus far?
One of my musical highlights would have to be playing at the dawn service and national ANZAC day service in Canberra in 2019.  Seeing how many people came to commemorate while the sun rose behind them will be something I'll never forget.
How has studying at JMI helped you to get where you are and towards your future goals?
JMI gave me a great foundation of musical knowledge and aural skills and the confidence to improvise in front of other professional musicians and create arrangements for peers to play.  Both performing and having charts played by peers is always tough for me but by doing it a lot during my time at JMI it has become less daunting and more exciting!
What advice would you have for someone thinking about studying music and especially jazz?
If it's something you can't stop thinking about, you should do it!  Learning jazz especially provides a great fundamental set of skills that you can take to any genre of music and definitely gives you a huge appreciation for the amazing music being created all the time.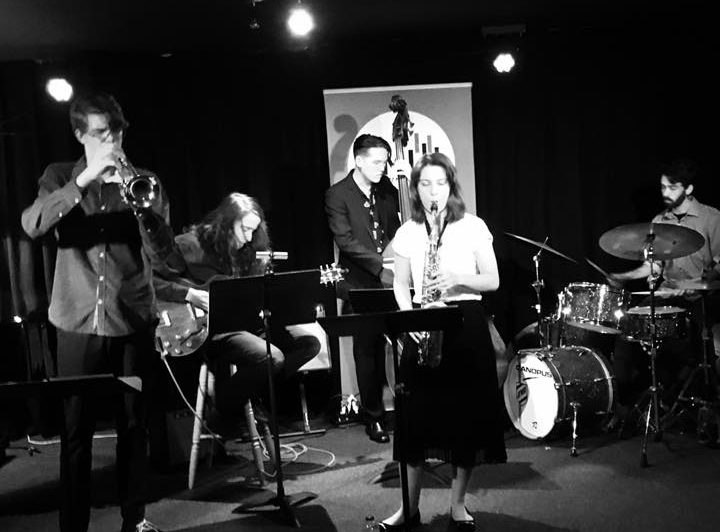 Any advice for current students as they complete their Bachelor?
Remember why you chose to study! Every time I was in a rut or completely stressed out about a pile of assessments coming up or feeling unprepared for a performance, I'd listen to the music that first got me hooked on learning jazz and take a deep breath.
Mental and physical health always comes before anything else!
Failing isn't the worst thing in the world as long as you learn from it and change something.
What musicians/bands have you been listening to at the moment?
Currently I am listening to 'Sinatra at The Sands' with the Count Basie Orchestra as well as digging into some Chris Potter and Vincent Herring albums.