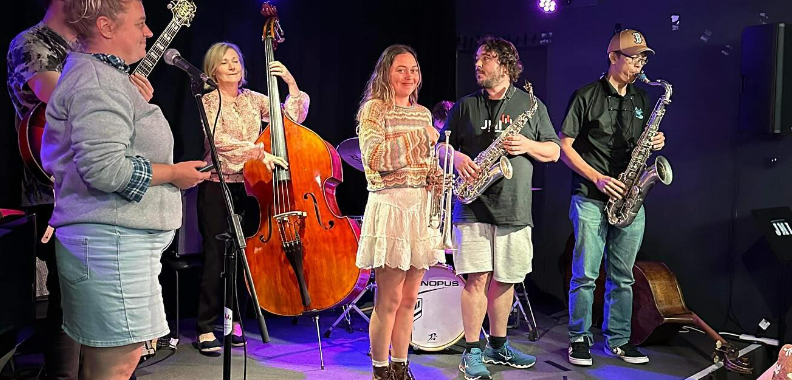 Project Week at JMI: A week of exploration and growth
At Jazz Music Institute, we believe in the power of immersion and exploration. Music isn't just about theory and practice; it's about the experiences, the journeys, and the stories that music can tell. This philosophy is beautifully encapsulated in our annual Project Week, a special week dedicated to workshops, collaboration, and musical growth. This year, Project Week was a resounding success, leaving everyone inspired and eager for more.
Project Week is a unique opportunity for our students to experience additional educational opportunities with leaders in the music industry, learning about career development and supplementing their course learning with further exploration of musical techniques and devices. This year's workshops were nothing short of exceptional, focusing on a range of exciting topics.
Featured Workshops
Performance Workshop with Nicki Parrott
We were very fortunate to have the amazing bassist and vocalist, Nicki Parrott, at JMI to work with the students directly and talk about her career experiences. Nicki's CV rivals the best in the business, having studied under Rufus Reid in New York and having performed with a stunning array of music legends such as Paul McCartney, Slash, Clark Terry, Randy Brecker and many many others spanning a career over 30 years. Nicki spent the afternoon performing with students and providing invaluable insight on how the students can improve their musicianship. Nicki had this to say after her workshop: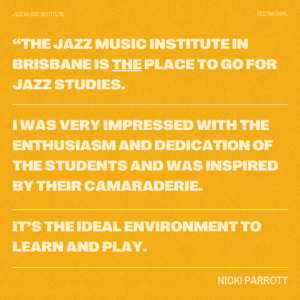 Building resilience and self-confidence for a sustainable career in the music industry
Presented by JMI alumni and founder of Fearless Singer, Mel Lathouras, this session focussed on on branding, marketing, and succeeding in the music industry. So often the focus is on how to become a better musician, but at JMI we're also focused on helping students develop industry skills and confidence in themselves to become the most successful versions of themselves.  Mel's workshop industry left an indelible mark on our students. Her passion, relatability and humour resonated deeply, making complex topics accessible. The practical tools, strategies and resources she shared were invaluable. The feedback from our students was they left feeling inspired and equipped with actionable knowledge.
Approaches to practice
Led by guitar lecturer Mike Anderson, this workshop focused on how to maximise your time in the practice room and work towards your musical goals, remaining patient with yourself and developing your own learning and practising strategies. The art of practice is so important to developing sustainable and long-lasting habits for improvement that are essential for musicians. This workshop left students with some great strategies for practising with consistency and structure.
Ear training
Music is an aural art form and training your ears to perceive and identify rhythm, harmony and melody is paramount to developing into a successful musician. Led by JMI's lead vocal lecturer, Charlotte Mclean, students delved deeper into techniques for developing their ears and how they can continue to improve their aural acuity.
Accounting for musicians
It's common for musicians to be so focused on the music they forget (or ignore altogether!) the importance of maintaining professional standards in other aspects of the industry, especially accounting! We were very fortunate to have Yvette Cree on hand to help our students in understanding accounting practices and providing practical solutions to ensuring they are staying on top of their obligations and maximising their opportunities in the early stages of their careers.
View this post on Instagram
Project Week isn't just a one-time event; it's a catalyst for ongoing inspiration. The knowledge, skills, and connections made during this week are sure to impact the future of our students' musical journeys. The enthusiasm and drive that our students carry forward are what make Project Week an integral part of our curriculum.
We're already looking forward to next year's Project Week, and the fresh ideas and creativity it will bring. It's a testament to the commitment of our students and the dedication of our faculty that Project Week remains a highlight of the academic year.
Keep swinging!