JMI Student Ensembles – (03/11/23 & 04/11/23)
Friday the 3rd of November & Saturday the 4th of November, 2023
Watch live from 10 Exhibition St, Bowen Hills or via our live-stream
Performances between 5-8pm
FREE
ABOUT
JMI's talented students will be performing their bi-annual student ensemble performances for the 2023 academic year in 2 jam packed nights of jazz on Friday 3rd and Saturday 4th of November at JMI Live!
Students from JMI's Diploma and Bachelor programs will show off what they've been working so hard on this year after being taught by some of Australia's finest jazz musicians and educators.
Educators:
~
Night #1:
Andrew Shaw
Tyler Cooney
Rebecca Scolnik
Night #2:
Travis Jenkins
Joshua Hatcher
Dr. Rob McWilliams
~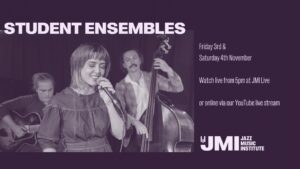 How do I purchase a ticket?
This event is free.
What is JMI Live?
JMI Live presents live jazz in Brisbane every Thursday night from 8pm and a jam session after each gig. JMI Live is renowned for its intimate setting, providing the best opportunity to listen to live jazz in Brisbane. Just like a jazz club in New York, this venue is the ideal location for great jazz music, acoustics and atmosphere.
Location
JMI Live is located at 10 Exhibition Street, Bowen Hills.
Live streaming
All JMI Live concerts are live streamed to JMI's YouTube account.  Subscribe to our YouTube channel to access our free live streams.