Rags and Early Jazz by Trevor Hart – (02/11/23)
Thursday the 2nd of November, 2023
10 Exhibition St, Bowen Hills
Doors from 7:30PM
Music starts on the downbeat of 8PM
$20 ENTRY+BF
Head to our Humanitix to purchase limited seated tickets
ABOUT
Known for his freeform jazz in the Trevor Hart Quartet in this performance Trevor reveals his long time love of rags and early jazz. Having begun as a cornet player in a brass band Trevor feels an affinity with the march forms and the freedom in rags and early jazz.
He is joined by Andrew Garton on clarinet, Zoe Atkinson on Sousaphone, Bayden Mitchell on his 1930's guitar and Grant Collins on drums.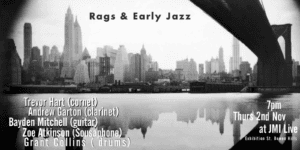 How do I purchase a ticket?
Tickets are being sold through Humanitix. Purchase limited seated tickets here. Due to JMI Live being an intimate space, we have a maximum number of guests allowed in the venue. We highly recommend it is best to get in early before tickets sell out.
What is JMI Live?
JMI Live presents live jazz in Brisbane every Thursday night from 8pm and a jam session after each gig. JMI Live is renowned for its intimate setting, providing the best opportunity to listen to live jazz in Brisbane. Just like a jazz club in New York, this venue is the ideal location for great jazz music, acoustics and atmosphere.
Location
JMI Live is located at 10 Exhibition Street, Bowen Hills.
Live streaming
All JMI Live concerts are live streamed to JMI's YouTube account.  Subscribe to our YouTube channel to access our free live streams.
Ticket Refund Policy
If you are experiencing flu-like symptoms and are unable to attend after having purchased a ticket, please contact the JMI office (07 3216 1110 or email play@jazz.qld.edu.au) as soon as possible during business hours (10AM-4PM) to let us know you won't be able to attend. A full refund will be given if we are contacted prior to a performance. Refunds will not be processed if we are contacted after the gig.