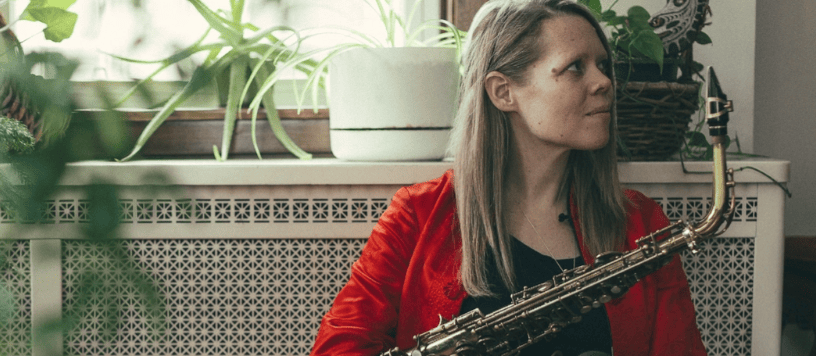 BIJF presents Caroline Davis (USA) Workshop – 28/10/23
Saturday the 28th of October, 2023
10 Exhibition St, Bowen Hills
10am – 11am
FREE (Register required)

ABOUT
This workshop presents an open opportunity to discuss music, the saxophone, and life with Caroline Davis (USA).
Mobile since her birth in Singapore, saxophonist, composer, and vocalist Caroline Davis's expression covers a wide range of styles, owed to her shifting environment as a child. From angular, melody-present instrumental outfits to soulful, quirky song writing, Caroline's persona is recognizably present. As an improviser and saxophonist, she has released six albums under her name and has won Downbeat's Critic's Poll Rising Star. Through the years, her work continues to garner praise in domestic and international publications.
Davis has shared musical moments with Lee Konitz, John Zorn, George Cables, Angelica Sanchez, The Femme Jam, Matt Mitchell, Terry Riley, Nicole Mitchell, Miles Okazaki, Geoffrey Keezer, Rajna Swaminathan, and Billy Kaye, among many others. She regularly sings and writes songs with the experimental R&B band, My Tree. Her composition work has led her to be a resident fellow at MacDowell, The Jazz Gallery, The Rockefeller Estate, and ICE Ensemble Evolution; and she has been awarded Jerome Hill, CMA, and NYFA fellowships. Her compositions often integrate science and music, influenced by her Ph.D in Music Cognition. Caroline is an advocate for gender equity (This Is A Movement, The New School) and carceral justice (Justice for Keith LaMar).
Caroline was recently shortlisted for the 2023 DownBeat 71st Annual Critics Poll for Alto Saxophone alongside the likes of Lakecia Benjamin, Kenny Garrett, Steve Coleman, Jim Snidero, and Anthony Braxton.
How do I attend?
This event is free, however we require a registration of your attendance. Register here. Due to JMI Live being an intimate space, we have a maximum number of guests allowed in the venue. We highly recommend it is best to get in early before registrations are full.
What is JMI Live?
JMI Live presents live jazz in Brisbane every Thursday night from 8pm and a jam session after each gig. JMI Live is renowned for its intimate setting, providing the best opportunity to listen to live jazz in Brisbane. Just like a jazz club in New York, this venue is the ideal location for great jazz music, acoustics and atmosphere.
Location
JMI Live is located at 10 Exhibition Street, Bowen Hills.
Live streaming
All JMI Live concerts are often live streamed to JMI's YouTube account.  Subscribe to our YouTube channel to access our free live streams.
Ticket Refund Policy
If you are experiencing flu-like symptoms and are unable to attend after having purchased a ticket, please contact the JMI office (07 3216 1110 or email play@jazz.qld.edu.au) as soon as possible during business hours (10AM-4PM) to let us know you won't be able to attend. A full refund will be given if we are contacted prior to a performance. Refunds will not be processed if we are contacted after the gig.