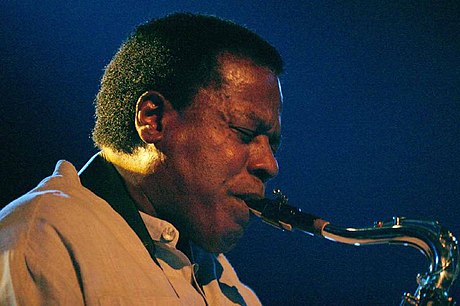 Jeff Usher Quintet Tribute to Wayne Shorter – 25/08/23
Friday the 25th of August, 2023
10 Exhibition St, Bowen Hills
Doors from 7:30PM
Music starts on the downbeat of 8PM
$20 ENTRY+BF
Head to our Humanitix to purchase limited seated tickets
ABOUT (written by Jeff Usher)

I first became aware of Wayne Shorter's music in 1980, when listening to Miles Davis' recordings from the late 1960s. I later discovered Wayne's recordings with Art Blakey and the Jazz Messengers, and his own albums for Blue Note such as Night Dreamer, Adam's Apple and Speak No Evil. I also learned a stack of Wayne's tunes when studying with Mike Nock at Queensland Conservatorium of Music in 1985. Wayne Shorter's compositions have served as major sources of inspiration for me in my own work as a composer and improviser, and I was thrilled to bits to meet the man himself at QPAC along with Herbie Hancock on 2 March 1998.
For this concert on Friday 25 August, celebrating what would have been Wayne's ninetieth birthday, I will feature the tunes from Speak No Evil, one of his best loved Blue Note albums, plus a few other nice things, such as Nefertiti and Footprints.
Band:
Jeff Usher – Piano
Martin Kay – Alto Sax
Ashley Hutton – Tenor Sax
Dominic Machen – Drums
Jimmy Visentin – Double Bass
How do I purchase a ticket?
Tickets are being sold through Humanitix. Purchase limited seated tickets here. Due to JMI Live being an intimate space, we have a maximum number of guests allowed in the venue. We highly recommend it is best to get in early before tickets sell out.
What is JMI Live?
JMI Live presents live jazz in Brisbane every Thursday night from 8pm and a jam session after each gig. JMI Live is renowned for its intimate setting, providing the best opportunity to listen to live jazz in Brisbane. Just like a jazz club in New York, this venue is the ideal location for great jazz music, acoustics and atmosphere.
Location
JMI Live is located at 10 Exhibition Street, Bowen Hills.
Live streaming
The following gig will be live-streamed on our YouTube channel. If you wish to view a JMI Live gig in person, you must purchase a ticket ($20+BF).
All other JMI Live concerts are live streamed to JMI's YouTube account.  Subscribe to our YouTube channel to access our free live streams.
Ticket Refund Policy
If you are experiencing flu-like symptoms and are unable to attend after having purchased a ticket, please contact the JMI office (07 3216 1110 or email play@jazz.qld.edu.au) as soon as possible during business hours (10AM-4PM) to let us know you won't be able to attend. A full refund will be given if we are contacted prior to a performance. Refunds will not be processed if we are contacted after the gig.