King St Jazz Festival was a huge success!
The Jazz Music Institute & King Street Brisbane proudly present: The King St Jazz Festival!
Saying goodbye to Winter and hello to Spring, the Jazz Music Institute proudly curated a half-day jazz festival this September in the central location of Alexandria Park, Bowen Hills, supported by King Street Brisbane.
Jazz lovers from near and far packed themselves a picnic rug and a picnic basket full of afternoon goodies to indulge in the 28 degree sun.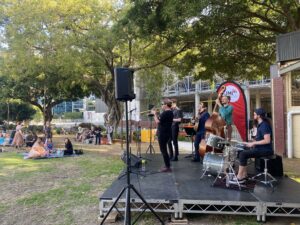 The festival celebrated the full history of jazz, from New Orleans to now, with a jam packed afternoon of four of the finest local jazz musicians around! JMI student and trombonist, Patrick Atkinson started the day off swinging with his quintet featuring a mix of JMI students and alumni, performing a range of jazz standards and some of his own originals.  JMI vocal teacher and 2022 Freedman Fellowship finalist, Jessica Spina followed up with a wonderfully intimate trio set that permeated through the lovely green surrounds of the park.
Saxophone & Improvisation teacher at JMI, Graeme Norris took to the stage with his organ trio featuring Wil Sargisson (organ) and JMI alumni Aaron Jansz (drums) performing some super swingin' and lesser-known jazz originals. To close out the festival, JMI's Head of School Dan Quigley lead Brunswick Street Parade on stage as they bopped along to some vintage 20's and 30's jazz tunes that had everybody's toes tapping.
Overall, the festival was an afternoon filled with wonderful jazz music, with a total of 100 patrons visiting the grounds during the day. We can't wait to hold this festival again in the future.
Here's a video recap:
View this post on Instagram
Thank you again to our sponsors, King Street Brisbane and we thank you again for celebrating with us.