Eric Alexander (NYC) visits the Jazz Music Institute!
What a week! JMI had the privilege of hosting internationally renowned tenor saxophone player, Eric Alexander (NYC) for a workshop and concert!
Eric spent half a day holding a workshop at JMI Live with our students and saxophone lovers alike. After a quick ensemble demonstration with his quartet, Eric opened the floor to questions from our students. What ensued was an insightful and inspiring experience for all, receiving invaluable knowledge from a jazz master.
That evening, Eric Alexander put on a stellar show to a packed house at JMI Live performing with local musicians Eden Armstrong (piano) + JMI alumni, Elliott Parker (double bass) and Christopher Evans (drums). Eric was impressed with their high calibre professionalism and skill on stage, stating "these cats can really play!".
Eric was kind enough to give the Jazz Music Institute a personal testimonial.
Here's what he had to say:
View this post on Instagram
"Hello, Eric Alexander here at Brisbane Airport. I just finished a wonderful day and a half at the Jazz Music Institute. A great facility with accredited degrees in jazz performance and other things, and a wonderful staff. We had a great concert last night! And I think this is a place that people should really check out." – Eric Alexander, 2022
All the students and staff at JMI are feeling so inspired since Eric's visit and can't wait for his next visit!  Nick Quigley, CEO of JMI, stated:
"It's such a wonderful opportunity for JMI students and the Brisbane jazz community in general to be able to hear and watch one of the leading exponents of jazz saxophone in the world today.  It was a privilege to host Eric and gain his insights into performing jazz. The students learnt a lot out of the whole experience and are no doubt really inspired to put his advice into practice."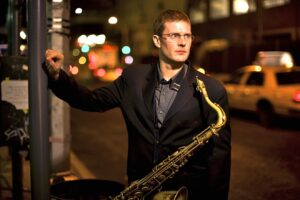 ABOUT ERIC ALEXANDER
Boasting a warm, finely burnished tone and a robust melodic and harmonic imagination, tenor saxophonist Eric Alexander has been exploring new musical worlds from the outset.
"The people I listened to in college are still the cats that are influencing me today," says Alexander. "Monk, Dizzy, Sonny Stitt, Clifford Brown, Sonny Rollins, Jackie McLean, Joe Henderson–the legacy left by Bird and all the bebop pioneers, that language and that feel, that's the bread and butter of everything I do. George Coleman remains a big influence because of his very hip harmonic approach, and I'm still listening all the time to Coltrane because I feel that even in the wildest moments of his mid- to late-Sixties solos I can find these little kernels of melodic information and find ways to employ them in my own playing."
Eric has appeared in many capacities on record, including leader, sideman, producer as well as composing a number of the tunes he records. By now, Alexander has lost count of how many albums feature his playing; he guesses 80 or 90. While he has garnered critical acclaim from every corner, what has mattered most has been to establish his own voice within the illustrious bop-based jazz tradition.
In 2004, Eric signed an exclusive contract with the New York-based independent jazz label, HighNote Records where he has amassed a considerable discography of critically-acclaimed recordings. Most recent among them is "Chicago Fire" HCD 7262, "The Real Thing" with Pat Martino HCD 7278 and "Second Impression" HCD 7296. Eric's most recent HighNote release, "Song of No Regrets,"(HCD 7311) was featured in Downbeat's "Hot Box". He is currently working on a new recording project which will see commercial release in mid-2019.
Eric continues to tour the world over to capacity audiences. Using NYC as his home base he can regularly be seen in the city's most prestigious jazz clubs.