Talking JMI with Braden Hunter
We had a quick chat with one of our current Bachelor students, Braden to discuss his experience thus far studying at JMI and how it has benefited him and his future as a musician. Braden lived regionally before moving to Brisbane to study and we are very grateful that he has been kind enough to share some more insight into why he chose JMI to study a Bachelor of Music. 
Firstly, tell me a bit about yourself. What instrument are you currently learning and when did you first start playing music?
I am currently learning guitar at JMI and I'm in my first year of study. I first started playing trumpet in year seven and was the youngest student to perform at our little school in Cardiff. It was a great introduction to playing for an audience. I moved over to bass in year eight to jam with my buddies. They needed a bass player for their band and I thought it would be a fun time. We learned a few classic rock tunes to play at the school music night. I quickly became dissatisfied with bass and trumpet so I moved over to guitar where I realised the sound of a guitar connected with me in a personal way. Plus, I really wanted to play solos and chords.
Why did you choose JMI to do your Bachelor in Music?
I was studying music in Newcastle. I felt that the course there was not structured correctly. I had this feeling of dread a lot of the time when a class finished or when I got home from uni. I thought, there must be a better way to study music! In one of the guitar classes at Newcastle, my teacher, Ben Hauptmann, was telling us about a gig he did at JMI and suggested we give it a watch on YouTube. This led me to check out the JMI website and have a read about the courses offered there. Everything I saw about the course was addressing the problems I was feeling when studying at Newcastle. For example, the one on one lessons and a focus on practical classes. JMI looked like a fun place and had great student feedback scores, so I decided to go for the audition.
How do you handle full-time study whilst being new to Brisbane and learning in a new place?
I'm not going to lie, it's been tough juggling the work load while finding my way around Brisbane. I have prior university experience which has definitely helped with the study side of things. Brisbane seems to have a lot of suburbs relatively close to each other, so there are a bunch of names to remember and they all feel like the same place. Go a hundred meters one way and the place changes. Also, some of the roads are so confusing, how do people learn this place without constant GPS maps? In retrospect however, it's easier to get around Brisbane than it is Sydney.
Flashback to when you auditioned… What was it like and what advice would you give for anyone who is preparing for their audition right now?
I had an online audition, essentially a zoom call where I played along to backing tracks. I was nervous about playing to people on a screen. I hadn't done that before. I'd learned a few jazz tunes here and there for my own enjoyment. As luck would have it, I already knew how to play the two tunes I auditioned with. With my prior university experience, the theory side of the audition was a breeze. For people without that experience, I'd suggest looking into music theory videos on YouTube for some general pointers. Mates with experience are invaluable. If you want to audition and know someone at JMI or any other music university, ask them for some basic tips. I always love talking about theory.
Has Jazz always been a passion of yours, or did JMI further introduce you to Jazz?
The seeds for my jazz farm were planted back in Newcastle. My high school music teacher always commented that he was "a try hard jazz guitarist". He always encouraged you to expand your listening. Jazz came in and out of my listening choices during my early 20's. Some assessments at the Newcastle Con required playing solos with multiple scales. This expanded my mind to some of the possibilities when soloing and some of the more 'jazzy' sounds. This was mainly for fusion/contemporary situations.
JMI has watered my jazz farm with new music, artists and the importance of critical listening. Now it's hard to listen to anything but jazz! Plus the opportunity to jam with fellow students has solidified a love for jazz.
How do you feel learning jazz has benefited you as a musician in the wider musical landscape?
My aural ability has increased. It's easier to learn tunes by ear and hear where you are in the form than it was a year ago. A good test for this has been sitting in with one of my mates bands. We played a couple of three hour sets where I didn't know a single song and was able to figure them out in the moment. Comparing all the chord progressions to the roman numeral equivalent has increased my awareness of the sounds I hear in all tunes, be it jazz or contemporary music. Further work on this skill will only increase my skills in a wider musical landscape.
Ideally, what skills or goals were you aiming to accomplish by the end of your degree? And do you feel that you are on your way to doing that?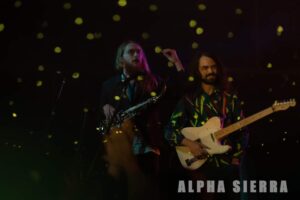 My biggest goal is to play jazz in a way that satisfies me. To be able to let go of any bad emotions while playing and free my mind to play the melodies in my head. It's easy to beat yourself up about a certain solo or phrase you played, though most of the time it isn't helpful. I'd also like to learn how to network and get myself out there to facilitate finding performance work. Getting out of my home town has forced me to explore Brisbane and meet new friends I would not have met otherwise. It's all a journey and I feel I'm on a great path to accomplish these goals.
What transcriptions or specific techniques are you learning at the moment?
I've been transcribing Charlie Christian's solo on 'Grand Slam'. In the refining stage at the moment and trying to play it at the right speed. I've also been transcribing Wes Montgomery's 'Four on Six'. I've been focusing on my articulation and listening carefully to how the guitar masters do it.
What in your opinion is one of the best parts about the JMI Bachelor of Music in Jazz Performance course?
I love improvising. It's been a passion of mine for many years now. The best parts of the course is learning new and interesting tools that improve your creativity while improvising. Every course is connected with the topics discussed. You can learn a new tool for the bag in one class and then apply it to another. No class is redundant. This adds to the experience and feels like everything taught can be useful for a whole bunch of situations. The course at JMI is structured in a way that makes sense.
Any favourite jazz artists?
Kenny Burrell, Joe Pass, Chad Lefkowitz-Brown, Grant Green and Sonny Stitt.
What is your favourite part about JMI in general? What makes it unique or stand out to you?
Comparatively, JMI is like stepping into a whole other world in terms of music education. The student community is fantastic. Everyone wants everyone to succeed and play their best. The students are approachable to start jams, which is a great way to implement new techniques learned during the semester. I remember in Newcastle, we would finish a class about some cool musical exercise and then no one would want to jam or even talk about what we just learned. I don't understand why you would want to study music and then not play music with others. JMI is completely different and stands out as a gathering hall to jam and talk music.
Would you recommend JMI as a place to study for future students, and why?
JMI is a great place to learn music. Being such a small university, you know everyone and it feels more like a home away from home. Every teacher and student contains a wealth of knowledge that leads to fruitful conversations. JMI encourages you to go home and practice because every time you watch someone play you think 'damn I gotta go home and learn how to do that'. I love jamming with everyone and being a part of this great community.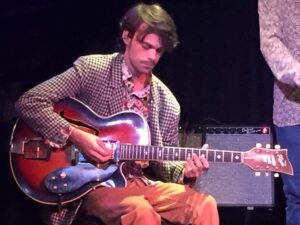 Finally, do you have any advice for those who are living regionally and are unsure if they want to move away to study music?
What do you have to lose? If it doesn't work out, you can always move back home. That's how I thought about it. You might lose 6 months to a year of your life or you could have a blast learning music, playing music and meeting new people who all share the same passion.
Second round of Auditions begin in September! To find out more about our Bachelor of Music in Jazz Performance course and how to apply, click here.