Talking JMI with current student, Will Milne
We had a quick chat with one of our current Bachelor students, Will to discuss his experience thus far studying at JMI and how it has benefited him and his future as a musician. 
Firstly, tell me a bit about yourself. What instrument are you currently learning and when did you first start playing music?
Hi! My name is Will and I'm playing the jazz piano in 3rd year at JMI. I started playing music as a 12 year-old, messing around with Sony Acid and Fruity Loops, DJ-ing and making beats, rapping and electronic music. I started playing guitar around 21 and became fascinated with theory and jazz piano shortly after — it just hit me out of nowhere.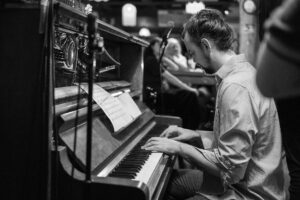 Why did you choose JMI to do your Bachelor in Music?
I chose JMI because when I asked my local music friends, they just raved about it. It was easily the only choice for me.
Flashback to when you auditioned… What was it like and what advice would you give for anyone who is preparing for their audition right now?
Oh man, my audition haha… I remember I did Blues By Five and Autumn Leaves in D minor instead of G minor as I wasn't really aware of the whole "normal" key for a tune thing. It was okay. I was very nervous and it flew by. My advice would be to take a breathe before you start and try to actually enjoy it. Try and play simple ideas and repeat them softly, play less than you normally would and remember if they say to give the bass a solo… give the bass a solo (sorry Nick!).
Has Jazz always been a passion of yours, or did JMI further introduce you to Jazz?
I have always liked the music from the African-American cultural tree. I had older siblings who were into hip hop, early 90's RnB and Soul. My dad liked Stevie Ray and Albert King — all off shoots of the blues and jazz. Naturally, I followed that inclination but never really messed with jazz until one day my friend casually mentioned she liked jazz and I was like "What is jazz? What's even happening here?" I knew there had to be a system. Since then I have just been endlessly fascinated in the piano and jazz in general.
How do you feel learning jazz has benefited you as a musician in the wider musical landscape?
Learning jazz and the applications in the current landscape has made it so easy to step into any situation musically and hold my own, regardless of genre. Since studying jazz, I've played in and fronted not only Jazz Combos, but Electronic, Dance, Funk and Soul bands.
Studying jazz just gives you this tool belt of conceptual understandings and musical maturity. Everyone should do it. JMI in particular opened up a lot of doors for me and my musical desires.
Ideally, what skills or goals were you aiming to accomplish by the end of your degree? And do you feel that you are on your way to doing that?
I just wanted to be better than where I was at and switch careers. I was obsessed and am still obsessed, so why not give it a shot? I was definitely looking to get my jazz vocabulary and reading up as well as make my network larger, and that's all happening. I do feel I'm on my way, but the more I learn, there's more to learn. The ceiling always gets higher, ya dig?
What transcriptions or specific techniques are you learning at the moment?
I'm on holidays as of writing this so I'm in listening mode. New semester repertoire is getting rinsed. I'm still working on getting Bud Powell's first two choruses of Parisian Thoroughfare up to speed. Wynton Kelly on This I Dig of You. Technique-wise I'm trying to practice minimal hand movement and being actively engaged in the "space" on some Kenny Werner thing. I am finding more joy in the music if I can detach from if what I'm playing is "good" or not. Playing unaccompanied right hand lines, trying to clearly hear the changes. It took me a long time to actually hear that and now I hear myself NOT doing it a lot.
What in your opinion is one of the best parts about the JMI Bachelor of Music in Jazz Performance course?
One of the best parts? Paula Girvan! I could name every member of staff as the ONE of the best. Dan is such a good teacher, Dr. Rob is a great teacher. Graeme Norris is a certified G!
The teachers are truly remarkable players and people. The course itself is challenging as it comes. It will make you constantly reassess your approaches to listening, playing and analysis of all musical concepts — overall it's really rewarding.
Any favourite jazz artists?
The new cats in the straight ahead like Emmet Cohen are straight fire. I like Henry Wu, Yussef Dayes, Alfa Mist, Tom Misch, Moonchild too. Bill Evans got me in, but Red Garland and Bud Powell are my new favourites. Duke Ellington could really play piano too, compositions and band leading aside, he's legit a monster.
What is your favourite part about JMI in general? What makes it unique or stand out to you?
Favourite part is the supportive undertones. Nobody at JMI is overly braggadocious, nor is that attitude welcomed. People are there to help, support, and bring you to new understandings and bring everyone along too. There are some serious talents regularly visiting, in the staff and the student body. I've found it to be very good in that regard.
Would you recommend JMI as a place to study for future students, and why?
Definitely. It provides the space for development so well. It's very hard but also very doable, and delivered in a way that builds on the previous learnings in such a cool way. It gives you a professional mindset and sets you up to also be proper in your business self too.
And last but not least — Do you have any gigs coming up or are there any local bands that we can spot you performing within?
On August 14th, I am playing a little gig with Ambrose, Casey & Bodhi Towers at The End, West End! We will be playing live improvised house and electronica.
I also perform regularly for local singers such as Rosa Mack & Tyra, as well as perform in improvisation group, Accomplice Collective.
Second round of Auditions begin in September! To find out more about our Bachelor of Music in Jazz Performance course and how to apply, click here.
*All photographs of Will were taken by Anthony Lazaro.