Chats with current JMI student, Patrick Atkinson
We had a quick chat with one of our current Bachelor students, Pat to discuss his experience thus far studying at JMI and how it has benefited him and his future as a musician.  
Firstly, tell me a bit about yourself. What instrument are you currently learning and when did you first start playing music?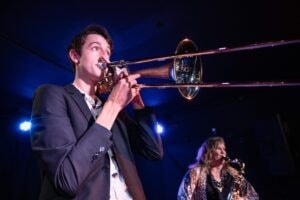 Hi! I'm Patrick and I'm currently in 3rd year at JMI studying bass trombone. I started playing trombone in my primary school band when I was 7 and then picked up bass trombone when I was about 13.
Why did you choose JMI to do your Bachelor in Music?
I first heard of JMI through the Essentially Ellington Festival. I was in quite a few big bands in Sydney which took part in the festival and I found the whole process so valuable. Then when I was looking at universities I did some research about JMI and loved pretty much everything I saw. I loved that the big band focused on Basie and Ellington music and that the course was focused purely on jazz. The endorsement from Wynton certainly didn't hurt either.
Flashback to when you auditioned… What was it like and what advice would you give for anyone who is preparing for their audition right now?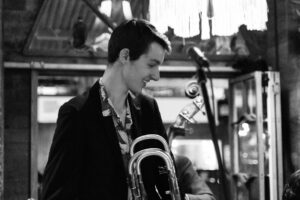 Auditioning was great actually. I was really nervous about the whole thing; the audition itself, meeting the faculty, being up in a new city. But Dan, Nick, Paula and Gary were all immediately so welcoming and kind. It felt like the audition was more about understanding if JMI was a good fit for me than about how good I was at that point. I think if you want to learn jazz, there's absolutely no harm in auditioning.
Even if it turns out that JMI isn't the perfect fit for you right now, you'll be given valuable feedback that you can work with to give it a go another time. I certainly wouldn't see it as passing or failing, because I don't think that's how the Quigley's see it either.
Has Jazz always been a passion of yours, or did JMI further introduce you to Jazz?
I got my first taste for jazz in year 5 when my primary school started up a big band. We played a mix of stuff, some tunes much closer to jazz than others, but I was hooked. In high school I kept playing in as many big bands as possible, I think I was in 4 big bands for most of high school, plus concert bands. I loved the music and really liked improvising but I didn't really know how to navigate chord changes.
Coming to JMI introduced me to a whole new world of jazz.
I had never checked out much small group stuff until JMI (because who needs small groups when you can have a whole big band) but the expression and freedom that you can get in that format is so beautiful and can be so swinging. So JMI really opened up a door for me there in terms of my passion for jazz.
How do you feel learning jazz has benefited you as a musician in the wider musical landscape?
Learning jazz has made me so much more aware of how I want to express myself through music. When you're playing improvised music you can't just play what's written accurately and call it a day. Every note, rest, dynamic and articulation becomes a musical choice that you are personally responsible for. It's no longer about how should the music sound but instead how do you want the music to sound. That's been so helpful in all musical situations, even when I am reading music. Sheet music isn't perfect and there's often so much room for interpretation. I feel like I can interpret music, written or not, so much more honestly now.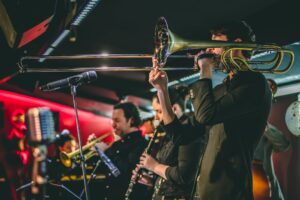 Ideally, what skills or goals were you aiming to accomplish by the end of your degree? And do you feel that you are on your way to doing that?
I remember the first jam I went to at JMI I saw Lachlan Alexander improvising. He wasn't spewing out notes as fast as he could; he was leaving space and being so expressive. I remember saying to Sharon who was sat next to me "that's what I want to be able to do – he's not playing that much but every note he plays is so tasteful". I'd like to think I'm on my way there, but it's a work in progress and always will be. I'm certainly much, much closer than when I started the degree. I've always wanted to be a big band player, and every musical and technical aspect of JMI has pointed me towards that goal.
What transcriptions or specific techniques are you learning at the moment?
At the moment I've been working a lot on my lower register and trying to make that sound as rich and open as possible. Musically, I've been really enjoying composing and arranging. Writing tunes is a really fulfilling creative outlet for me, and developing my skills so that those compositions can become even more honest and meaningful has been a really valuable learning process. Most recently I've been transcribing Benny Bennack's vocalise on Steven Feifke's arrangement of "It Could Happen to You".
What in your opinion is one of the best parts about the JMI Bachelor of Music in Jazz Performance course?
For me, the improv classes have been the most beneficial. We stripped right back to the basics which was exactly what I needed. Working on playing arpeggios through chord changes and really easing into improvisation one step at a time really helped ensure there were no gaps in our knowledge. Once that solid foundation was established, more and more would get built upon it both inside and outside the course. But without such a solid foundation I don't think any of the extra stuff would have stuck.
Any favourite jazz artists?
Count Basie, Thad Jones, Duke Ellington. I'm still a massive big-band fanboy. I've been really getting into some jazz vocalists recently too, there's such a raw sense of expression there sometimes. Benny Bennack III, Veronica Swift, Ella Fitzgerald, Caity Gyorgy. They're all amazing.
What is your favourite part about JMI in general? What makes it unique or stand out to you?
JMI is a relatively small university which means you really get to know the teachers and they get to know you. When the teachers know you personally and get to see your growth inside and outside the classroom they can tailor their teaching to be most effective for you. You also get to know the other students and the broader community really well. It's a very supportive environment where everyone seems to want the best for you as a person and a musician.
Would you recommend JMI as a place to study for future students, and why?
Absolutely.
JMI is a home for curiosity which really encourages you to learn in the best ways for yourself. Questions are always taken seriously and never perceived as weaknesses which means you can build such a comprehensive base of knowledge with very few gaps.
If you want to learn something about any kind of music, there are so many teachers, students and Alumni who each have their own unique perspective on music ready and eager to share it with you. When I first came to JMI, Dan told us that we would learn as much about ourselves in this course as we'd learn about music. That is certainly true. When you're encouraged to tell honest, personal stories through music it really forces you to figure out who you are as a person and what stories you want to tell.
And last but not least — Do you have any gigs coming up or are there any local bands that we can spot you performing within?
I'll be playing in the "Priscilla Queen of the Desert" musical throughout July and August in the Gold Coast, that's going to be a lot of fun. Aside from that, you can often see me playing with the JMI Jazz Orchestra, the UQ Big band, Brunswick Street Parade and various other groups around Brisbane.
Thank you for taking the time to read, hopefully I'll see you around JMI one day 🙂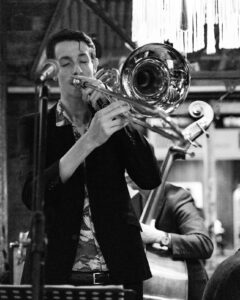 Second round of Auditions begin in September, 2022! To find out more about our Bachelor of Music in Jazz Performance course and how to apply for 2023, click here.