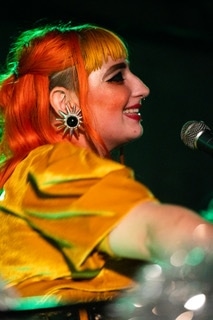 A lovely chat with current student, Chelle Janse Van Rensburg
We had a quick chat with one of our current Bachelor students, Chelle to discuss her experience thus far studying at JMI and how it has benefited her and her future as a musician.  
Firstly, tell me a bit about yourself. What instrument are you currently learning and when did you first start playing music?
I am studying vocal performance at JMI and am currently completing my final year of the bachelor degree. I first started playing music when I was about five when I moved into my grandparents' house in South Africa. There was a piano in the hallway right outside my bedroom and this is where I first discovered composition. Short four bar melodies were the characters from my dreams, and I would play them in succession to tell stories. I would make the whole house sit in the hallway and listen to tell them what I dreamt about the night before. My grandad listened to a lot of female vocalists – especially jazz – and I quickly found that singing was what made me the happiest.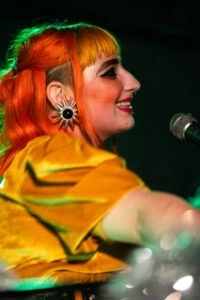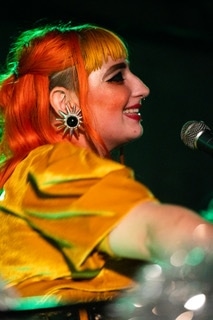 Why did you choose JMI to do your Bachelor in Music?
My main goal in the year I auditioned was to overcome my fear of collaborating with other musicians. I struggled for a long time with the imposter syndrome that comes with:
a) being a creative individual and
 b) being creative while being perceived or working with others
I was considering some other institutions when a friend who studied at JMI recommended that this would be the best place for me to learn these skills. I auditioned shortly after this.
Flashback to when you auditioned… What was it like and what advice would you give for anyone who is preparing for their audition right now?

My audition was kind of funny. I knew nothing about what to expect as I'd never put myself in that kind of situation before. Once I was given an audition date, I was sent a list of tunes to chose two from, and I learned them the best I could. I didn't know how to count in a tune or even what key I was singing in. When I showed up, I played them the recording I had practiced with and they knew exactly what to do for me.
My best advice would be to ask as many questions as you can, and if you don't know what you're doing, to audition anyway. I'm so glad I put myself in such a scary and vulnerable position, because that gave them the opportunity to support and teach me. That was the first of many times at JMI in which I felt absolutely clueless and instead of being judged or patronised I was met at my level and nurtured into confidence.
Has Jazz always been a passion of yours, or did JMI further introduce you to Jazz?
I honestly don't think I really knew what jazz was before my first week of studying at JMI. I didn't know how much improvisation was involved, and if I had I probably never would let myself audition. I was very much thrown into the deep end in these first few weeks (the whole first year really). It was a great way to be introduced to the universe of jazz, as I was never really given an answer to what it was. I was left to figure it out, and through this I've been finding my own answers. Sometimes it really feels like I still don't know at all, but I'm glad I was never told that there was one single 'box of jazz' and to never stray from it.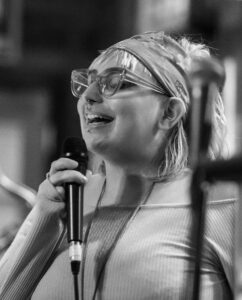 How do you feel learning jazz has benefited you as a musician in the wider musical landscape?

Learning jazz has more than anything developed my ability to listen to music. Before, I would've had to be told what was happening in a song or performance, never trusting my own ears or understanding. Although I will forever be on the journey of growing this skill, I have so much gratitude for the way I have been taught to trust my own interpretation of a performance. Now, I feel competent; I know how to articulate what I hear happening in arrangements or solos, and best of all I know how to ask better questions about what I don't yet understand.
Ideally, what skills or goals were you aiming to accomplish by the end of your degree? And do you feel that you are on your way to doing that?

To elaborate on question 2's answer, my biggest criteria for my own success by graduation was a sense of confidence, particularly in musical collaboration. At 22 (when I auditioned), I felt I had already missed so many opportunities because of fear, and that this would simply continue if I didn't make the choice to overcome this. I have developed many tangible skills in my time here, involving theoretical comprehension, the physiological aspects of singing, discovering my own style and so on. Above all this, however, the totally abstract process of intellectualising confidence, the ego, and fear of judgement which one goes through while studying at JMI has not only made me a better musician, but a more rounded person. I have incredible pride in my development in this skill throughout my time here.
What transcriptions or specific techniques are you learning at the moment?
I am learning some of Charlie Parker's solo over Chi Chi and working on addressing tongue root tension.
What in your opinion is one of the best parts about the JMI Bachelor of Music in Jazz Performance course?
A large portion of this degree makes deadlines being met dependent on students supporting one another without the reward of extra credit. Rather, students will take on additional commitments such as playing in another recital or assessed performance despite the additional stress this will add on their own juggling of assessment. Students are encouraged and expected to rely on one another as a criteria for high performance. This develops a strong sense of community and support between all cohorts; a skill which is essential to working in any field, but the music industry in particular. The traits of reliability, honouring commitments and having a sense of responsibility for one's peers do not belong naturally to every musician, and because of this is an invaluable expectation to have for oneself and others.
Any favourite jazz artists?
I don't play favourites but I'm currently very into Lucy Yeghiazaryan and Betty Carter.
What is your favourite part about JMI in general? What makes it unique or stand out to you?

An aspect I benefited from greatly at JMI was the smaller cohort. As an individual that has struggled in large learning facilities for my entire academic life, support for my learning was simply more accessible to me as the ratio of students to teachers was closer to equal. I would not have been able to learn the extent of what I have here without this.
Would you recommend JMI as a place to study for future students, and why?
I recommend this course to any musician who aims to grow their ability to improvise, collaborate with others, compose, understand theory or develop their aural capabilities. It is a challenging course in which you will find yourself constantly shedding old expectations of yourself to make room for new information and experiences.

And last but not least — Do you have any gigs coming up or are there any local bands that we can spot you performing within?
I'll be playing at The Bearded Lady for JMI Presents this month on the 29th.
First round of Auditions begin in July! To find out more about our Bachelor of Music in Jazz Performance course and how to apply, click here.