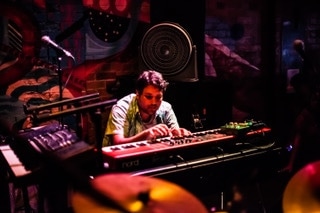 Meet our newest Faculty member, Lee Brackenborough!
We had a quick chat with our latest addition to the JMI Faculty, Lee Brackenborough!
We are so pleased to announce that he starts a new adventure with us at the Jazz Music Institute as an Aural Ear Training Teacher. Lee was kind enough to share a bit of a background about himself and what he enjoys the most about jazz, musical instruments and performing music.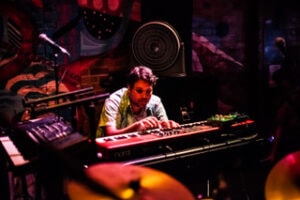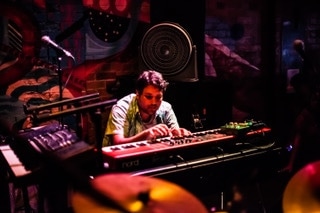 Tell us a bit about your journey as a musician. Where did you learn jazz?
I started playing piano when I was 4 or 5, we had a piano at home I would play on. I had lessons for a while but lost interest. I started playing Tenor Sax in high school, the music program at my school wasn't great, but my parents were very supportive and found a teacher who took me through AMEB exams. I also joined several extra-curricular wind ensembles and big bands like QYO, Young Con, and SEQWE. I had the opportunity to go on overseas music exchange tours to Japan and Taiwan with the LYME concert band and big band which was a great experience. I loved playing in the big bands but having had mostly a classical background I wanted to learn more about Jazz.
My parents bought me essential John Coltrane and Stan Getz CD's when I first started playing sax. I listened to them a lot and loved their contrasting styles. I started lessons with Graeme Norris towards the end of High School, I'd say he was my first proper educator in jazz. From there I studied at Jazzworx and then a Bachelor of Music at JMI a few years later taking influence from players like Sonny Rollins, Hank Mobley, John Coltrane and Dexter Gordon.
What instruments do you play and what do you love about them?
I play Tenor Saxophone, Piano, Synthesizers, and Electric Bass.
Saxophone, I love how expressive it is. There's an instant connection, an extension of your body that doesn't come as naturally on other instruments (aside from voice).
Piano covers my love for exploring harmony, sitting down at the piano and exploring the different harmonic colours and possibilities is one of my favourite things to do. That and the infinite challenge that is left/right hand independence. I love its versatility, whether solo or in a band situations it's a very fun instrument.
Synthesizers are a world of their own. They changed how I perceived sound. When I bought my first Synth, I would hold a sustained note and explore the different textures and tones that could be made. There's so much nuance in the production of a single note, synthesizers helped me see just how vast a world there is.
With Bass it's like you're the glue between rhythm and melody, working with the drummer to provide a solid foundation for the rest of the band. Most of what I play on bass is contemporary dance music. Seeing people dancing to the music creates a kind of feedback loop with the band and audience, it's a wonderful feeling.
What do you love about jazz?
The energy that can only come from a live performance, freedom of expression and the impermanence of it all. When the band locks in and everyone is in that flow-state, you're truly in the present moment.
What do you love about teaching?
Not everyone learns in the same way and often times you need to find different perspectives to explain ideas so that people understand them. It deepens my own understanding of music and also provides a fun challenge in finding different ways to inspire people. I think my favourite thing is seeing when a student takes on an idea and makes it their own.
Who are some of your favourite jazz musicians?
In no particular order: Sonny Rollins, Ben Winkelman, Bill Evans, Eric Dolphy, Art Tatum, Sun Ra, Bobby McFerrin, Esperenza Spalding, Anthony Braxton, Herbie Hancock, Thelonious Monk, Paul Motian.
Do you perform regularly in any bands?

I've been playing frequently over the last 10 years. Anywhere from Solo shows to functions and festivals. Some bands I play in are Big Dead, HRBRT, Menajerie and Elktung.
What have you been listening to at the moment?
Some of the albums I'm into at the moment from a few different styles:
Erroll Garner – Long Ago And Far Away
Ben Wendel – High Heart
Mononeon – Put on Earth For You
Otis Sandsjo – Y-OTIS
What is some of the best advice you have ever received from a mentor, musical or otherwise?
"Less is more"
Not so much advice given to me but it's a phrase that resonates with me more over time.