Meet our new Piano Teacher, Wil Sargisson!
We had a quick chat with our latest addition to the JMI faculty, Piano Teacher Wil Sargisson!
We are so pleased to announce that he starts a new adventure with us as a Piano Educator of the Jazz Music Institute! Wil was kind enough to share a bit of a background about himself and what he enjoys the most about jazz, piano and performing music.
Tell us a bit about you as a musician. What do you play and where did you learn jazz?
It was my father's decision to have me begin piano lessons, which started at Xmas time in 1985 when I received my first keyboard, a brown Casio of five octaves. Dad had learnt the classical method up to Grade 5, but got bored with it and began learning bass guitar. He figured I might also get bored with the regimented track and so decided to start me on Blues and Boogie Woogie piano. A handful of sheet music books for these styles were available in New Zealand at that time, so we grabbed everything we could find and started.
My Dad was my first and only real teacher.
He hadn't played piano seriously in decades but had a good ear and knew how to keep me on the right track. I played almost entirely Boogie and Blues until I was about 10 and discovered New Orleans R&B through a pianist friend of my Dad's in Napier. He loaned us a Dr. John solo piano LP and there I was introduced to the styles of players like Professor Longhair and James Booker. I took a deep dive into that bag throughout my teen years, transcribing what I could from about age 11 or 12. Stride piano was a bag I didn't get into seriously until about age 15 or 16 when I saw the German stride pianist Bernd Lhotzky perform live in New Zealand. In my late teens I started getting right into the playing of more mainstream jazz pianists like Oscar Peterson, Art Tatum, and others. These days I try to sound like a blend of all of those bags.
What do you love about the piano/keys?
Ten-part harmony is pretty nice, even more-so if you utilise the sustain pedal. I also like the way an acoustic piano has such a wide dynamic range. It can go from a whisper to a roar in no time at all. I like that it's much less physically demanding than many other instruments, and that playing piano is a perfect gateway into the digital music realm.
What do you love about jazz?
Improvisation is deeply personal, and means no two performances will ever be the same. That keeps things pretty fresh. It's hard for art to get stale when no-one has any idea what will happen in the next moment, or the moment after that. Also, the swing feel itself is something dear to me, and isn't really found in other genres that one might play or listen to. Interplay between musicians live and in the moment is great, too. Anything can happen and often does.
I guess I just love spontaneity, and jazz is all about that.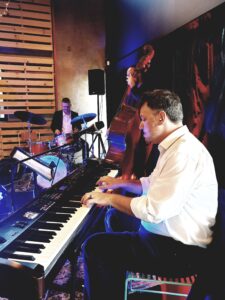 Who are some of your favourite piano/keys players?
In roughly chronological order: Jelly Roll Morton, James P Johnson, Fats Waller, Albert Ammons, Pete Johnson, Meade 'Lux' Lewis, Nat King Cole, Teddy Wilson, Art Tatum, Oscar Peterson, Professor Longhair, Dr. John, James Booker, Phineas Newborn, Dave McKenna, Gene Harris, Monty Alexander, Dick Hyman, Tom McDermott, Eldar Djangirov, Christian Sands, Benny Green, Geoff Keezer, and Marian Petrescu.
Do you perform regularly in any bands?

I currently make a living exclusively from playing gigs and the occasional recording session. During the lockdowns of 2020 I learned how to utilise recording software to a decent level, which means I'm available for online session work also. My gigging work is mostly of a freelance nature, but I played with the jazz group Galapagos Duck for over a decade and have quite a few other regular collaborators. I have a piano trio with Elliott Parker and Mitch Bellert that plays a few shows per year.
What have you been listening to at the moment?
I listen to an awful lot of funk and soul from the late '60s and early '70s. James Brown, early Kool & The Gang, The Meters, that kind of thing. Plenty of blues, too. Guys like Freddie King, Magic Sam, Albert King, Stevie Ray Vaughan. And '70s fusion stuff like Jaco Pastorius or the Brecker Brothers. I tend to not check out too much music recorded in the last generation or so, with the exception of that which is derivative of earlier music.
What is some of the best advice you have ever received from a mentor, musical or otherwise?
Relax. Try to remain detached from the physical act of playing your instrument, so that more of your brainpower may be used for creating something genuinely artistic. It's easy to let the physical act of playing take more of our attention than is needed.