Greg Quigley takes a trip down memory lane
We found a pile of old photographs and newspaper clippings from the 70s, 80s & 90s and showed them to JMI's Founder, Greg Quigley. What unfolded was a wonderful trip down memory lane over the earliest Summer Jazz Clinics in Australia and how Greg got 14 Americans to come through JMI's front doors.
Founder of the Jazz Music Institute, Greg Quigley holds up a photo of trumpet player, Don Rader.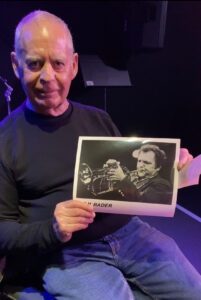 "Don Rader!" He chuckles. "That's where it all started, really. 1976. He came out to Australia with the Henry Mancini Orchestra and I got in touch with him before he left L.A." At the time, Don Rader was involved in the National Association of Jazz Educators in America. Greg goes on to retell some of the many talks that he and Don had had back in the day. Greg ended up asking him if he would like to come back after the tour and do some clinics in Sydney, to which he replied: "Yeah I've got nothing on. I'd love to." Greg thought that the clinic would mostly be full of trumpet players. But boy was he wrong! It turned out that drummers, bass players, guitarists, saxophonists and piano players all wanted to know more, specifically about American Jazz Music. "I just couldn't believe it! The calibre of players that came to the clinics were good players!" Greg exclaimed. "That really got me thinking…"
I pass Greg a newspaper article.
"August, 2000 by the look of it." states Greg, scanning the page in his hands. He begins to read the article aloud:
"American Trumpet player, Don Rader has a message for all aspiring young jazz players. Make sure you find a teacher who can show you how to swing. Jazz is dying because too many players coming out of the jazz schools, not to mention their teachers, have forgotten how to swing. Rader says: I think Wynton Marsalis was right. We need to rediscover the pulse and the heart of the music."
"I think that sort of sums up a lot of what I tried to achieve." says Greg.
But wait… how exactly did a bunch of incredible, American jazz musicians hear about Greg's jazz clinics here in Down Under? Greg retells the story with fondness.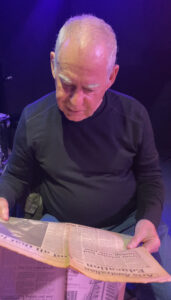 Around 1977, Greg remembers Jamey Aebersold having a very small ad in Downbeat magazine entitled: "Learn to play jazz on a vinyl LP." Greg immediately wrote to him and got a copy of it, however he still couldn't work out what to do with the information. This was when he had the idea of asking Aebersold if he would ever come to Australia to do some clinics like they did in America.
Greg recalls their back and forth conversations in the lead up. But it was Greg's persistence and determination that got Aebersold over the line.
"I'd say it was late '77, I waited up at night and picked up the phone, rang him. It would have been 11 or 12 o'clock at night. I said: "Jamey, it's Greg Quigley here in Sydney, Australia!" He said: [American accent] "Oh, yeah, yeah! Hi!" "About coming out to Australia, I wanna talk to you about that." And he said: "Oh yeah yeah yeah, I'd sure love to do that." I said: "Well that's great, because I'm not going to hang up the phone until you give me a date." He said: "Woah! Nobody's ever spoken to me like that before! You mean it!" I said: "Yeah I do. And if I've gotta hang on the phone for an hour, hour and a half, or however long, I'll do it!" He said: "Alright, let's make it Easter." And so we did. The result then was, he came out and we did Sydney, Melbourne, Adelaide, Brisbane."
This tour turned out to be so successful that Aebersold said to Greg: "Maybe I come out next Summer with a rhythm section?"
Getting quite emotional, Greg remembers a defining moment:
"January 1978, 14 … 14 Americans came through our front door. It was pretty incredible. And that was so so successful."
As we scoured through all of the memorabilia, more newspaper clippings and photographs surrounding the clinics and their success emerged, sparking more wonderful memories for Greg that were long forgotten. 
"An invasion of jazz to Sydney" reads Greg. "One of the biggest batches will arrive in January for the Summer Jazz Clinics. I've already mentioned that the Woody Shaw Quintet will be at the prestigious event, to be held at the conservatorium from January 19-23. The classes are for musicians and singers at all levels and ages. For more details… ring Greg Quigley." With a shaky voice, Greg recited the phone number stated on the page … "7127383″. And in this moment, he laughed.
"Is that still your number?" I asked Greg.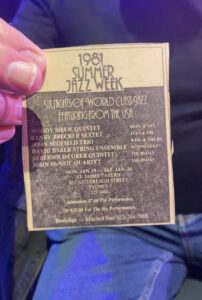 To which Greg responded through laughter: "Oh no no no…" He continued to read on: "The course includes techniques on individual instruments, the identification of chords, rhythms and ear training. Play along records will be used for the practice of scales and chords. Sounds fascinating! And like me, you'll be relieved to know that the absurdly low fee of $150 is tax deductible." Greg chuckled once more. "Yeah… wow." He exclaimed through sparkly eyes.
Sydney was not the only Australian city that was hit with a jazz invasion. Among the many newspaper clippings emerged one title from a Melbourne publication:
"Our city gets ready for a jazz transfusion."

It read on:
"Melbourne's annual jazz madness is upon us again. For the next couple of months, a steady stream of US and European musicians will circulate performing and teaching. This list is long and exciting. Tonight Milt Jackson opens at the MET, with Bob Sedergreen trio and players tomorrow night. On Monday, Woody Shaw's Quintet opens the Summer Jazz Week by the Australian Jazz Foundation, featuring Randy Brecker's Sextet, The John Scofield Trio, David Baker String Ensemble, Jamey Aebersold/Jerry Coker Quintet & John McNeil Quartet." 
Throughout the Summer Jazz Clinics and its evolution, it was clear that Greg had been lucky enough to not only work and learn with a lot of legendary jazz musicians, but also form lifelong friendships.
Johnny Coles, being one of them. Greg swiftly gets up and grabs the Herbie Hancock 'Fat Albert Rotunda' album, sitting atop a pile of photographs. The album has a personal message from Johnny Coles on it. It reads:
GREG,

We Need More People Like You!!

If so, Music would be the Greatest Vocation Ever!

"All the best to you and yours"

Johnny Coles.
"Johnny's on a lot of great albums. He's a delightful man…" says Greg. He recalls a time when Johnny Coles came out to their home in Drummoyne and tried playing Happy Birthday for Dan's third birthday. Through a chuckle, Greg talks about how he actually had trouble playing the melody of Happy Birthday. "It was quite funny… Here's this great jazz trumpet player and he says: [American accent] "Man, I haven't played Happy Birthday in a long time."
From the very first Summer Jazz Clinic in 1979 through to today (2021), Greg's Summer Jazz Clinics continue to live on.
If you wish to join in on our annual summer celebrations, head to our Summer Jazz Clinics sign up page to apply!
Our Brisbane clinics are almost half full, so get in soon for 2022.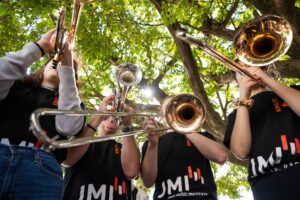 Did you enjoy this blog?
Keep an eye out for more blog posts in the future to follow Greg Quigley's journey as a pioneer for jazz in Australia.