King Street x Jazz Music Institute Takeover!
Here's where to find all the jazz along King Street in Bowen Hills for the rest of 2021!
Catch our New Orleans Street Band parade marching through King Street on the first Thursday of every month between 11:45-12:15PM! 
View this post on Instagram
Enjoy the sweet sounds of big band jazz with our JMI jazz orchestra playing the iconic charts of Duke Ellington, Count Basie & The Best of Today.
A three-part concert series in Alexandria Park sponsored by the King Street Community Grants Program.
Or casually bump into some of our famous jazz trios at these locations and times: 
Friday 17th December | 4:30-7:30PM | Spritz Bar, Montrachet & Xin Chao | Steph L, Kuwani B, James D
Tuesday 21st December | 11AM-1PM | Kuhl-Cher, King St Bakery & Musette | Steph W, Liam S, Alex A
View this post on Instagram
And last but not least, do you feel like having a jam? Come on down and have a hit with us or just watch the jazz magic naturally unfold at our King St Jam Sessions every Thursday at Space & Co from 4-6PM! All are welcome to join the fun.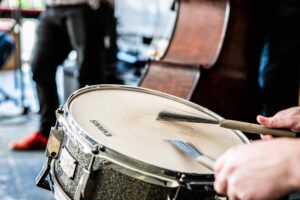 We very much look forward to sharing our love of jazz with you on King St.
Follow us on Instagram or Facebook to keep up with all the action.