Meet our newest Jazz Vocal Teacher, Charlotte Mclean!
We had a quick chat with our latest addition to the JMI faculty, Charlotte Mclean!
We are so pleased to announce that Charlotte starts a new adventure with us as one of our Principal Study Vocal Teachers here at the Jazz Music Institute! Charlotte was kind enough to share a bit of her background and what she enjoys the most about teaching and performing jazz music.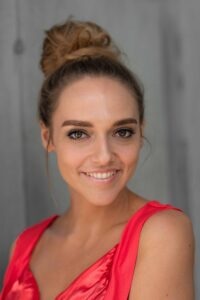 Tell us a bit about you as a musician. Where did you learn jazz?
I have always loved singing and writing music since I can remember. My earliest memory is of buying a Casio mini keyboard and obsessively playing around with sounds. I loved to try out new sounds and make melodies up on the spot and only realised that this was improvisation when I started studying Jazz at JMI after school. I grew up singing Musical Theatre and Pop which I loved but only really found a "fit" when I discovered Jazz. I started the Diploma course at JMI (then moved to the Bachelor course when it opened up) and loved the practice culture as well as the focus on ear training and listening to albums. Although vocals resonate with me the most, I love singing along to any instrumental solos, especially guitar and saxophone. I think that listening to Hank Mobley, Wes Montgomery and Sonny Stitt really sparked my initial interest in Jazz, as there is something so vocal and melodic about the way they improvise. I loved singing along to anything they played and I remember thinking that I would really love to approach music in a similar way.
What do you enjoy about teaching music?
Over the last ten or so years I have been teaching privately at my home studio as well as at private schools and running workshops in various contexts. I have also been lecturing at JMC Academy in Voice, Lyric and Song Writing and Ensemble. I love teaching the fundamentals of voice and find anything to do with the instrument really interesting. Every student is completely different and I enjoy figuring out how they learn, what drives them to practice and how their voice functions best. My favourite thing to teach though is how to build Jazz vocabulary and internalise sounds or "hear changes" (in other words how to understand and hear the chords of the song).
Nothing is better than hearing a student learning to improvise over a song and develop their own sound.
What do you love about singing?
Singing is the perfect fit for me because the spectrum of sounds is so diverse. With singing you can access any emotion you like through primal sounds – for e.g, crying, whispering, yelling, etc.
My favourite singers aren't afraid to sound "ugly" and you can hear them exploring so many different sounds, even within the space of a phrase.
With singing, I love how each of these different sound "set ups" can feel so different, but also completely natural. Another thing I love about singing is that if you can't hear something, you can't sing it. That also means that whatever you hear clearly, you can probably sing, so there isn't the added extra step of figuring out where the notes are! Also lyrics are a huge advantage.
What do you love about jazz?
Jazz repertoire really resonates with me. The melodies are beautiful and the rhythms influence so many other kinds of contemporary music. Improvisation can be frustrating as you never finish learning how to do it, but it can also be the most rewarding experience.
I live to hear cool rhythms translated to voice. There is something so satisfying about hearing singers improvising well.
Who are some of your favourite vocalists?
There are so many! I love Cecile Mclorin Salvant because she uses every detail of music to her advantage to shape a melody. She plays around with intonation, vocal effects, articulation, primal sounds and even changes the way she makes swing feel within a few bars. It's incredible!
I love Ellen Andersson because she has such a unique improvisational voice that somehow manages to be both traditional and modern at the same time. Her intonation is magic!
I love Betty Carter because she directs a band like I have never seen before. Her phrasing is unique and she has such control over how she shapes a song dynamically. It is like she is a drummer, a horn player and a composer all wrapped up in a beautiful voice.
I love Rai Thistlethwayte because of his incredible variety of musical influences shaping his understanding of Jazz. Blues, Rock, Pop, and Funk rhythms create really interesting Jazz solos. I enjoy that he has a Pop/Rock sound while singing Jazz language because no one else sounds like him.
Do you perform regularly in any bands?

Yes I perform regularly in a few different projects. I mostly sing Jazz standards where I network with different musicians depending on what line-up the venue is after. I also perform original "Jazz meets Pop" music where the focus is on lyrical concepts and pretty harmony. I have people that I regularly work with but no gig is the same, which is so fun and interesting!
What have you been listening to at the moment?
In terms of Jazz I have been listening to a lot of Louis Armstrong, Ellen Andersson, Sonny Stitt, and Chet Baker. Otherwise I love Bluegrass, 90's Pop, or anything I can sing loudly in the car.
What is some of the best advice you have ever received from a mentor, musical or otherwise?
The best advice I have gotten is to:
"Sing less ideas when improvising and just make it feel good".
So instead of getting wrapped up in the notes and trying to be "impressive" just make a nice melody and make the rhythms feel nice. It sounds obvious, but sometimes the most difficult thing to do is keep it simple and keep the most important people – the listeners – in mind. Another great piece of advice is to:
"Practice what you want to practice, not what you think you should practice."
As long as you are staying challenged, improving and learning you will benefit from whatever kind of practice you do.