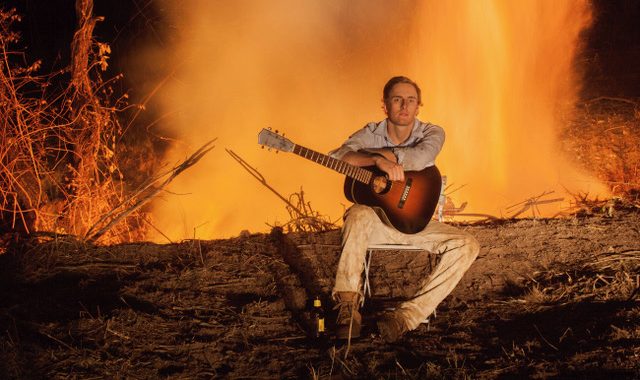 A brief chinwag with current student, Tom Watson and his JMI experience thus far
We had a quick chat with one of our current Bachelor students, Tom Watson to discuss his experience thus far studying at JMI and how it has benefited him and his future as a musician.  
Firstly, tell me a bit about yourself. What instrument are you currently learning and when did you first start playing music?

I am currently studying as a third year student at JMI and have been playing guitar since I was 10 or 11 years old, although I started taking piano lessons when I was about 8. I think the earliest kind of music I remember being exposed to was a country singer named Lucinda Williams, as well as Van Morrison and some early Norah Jones. I'd also just listen to my Dad play guitar around the house.
Why did you choose JMI to do your Bachelor in Music?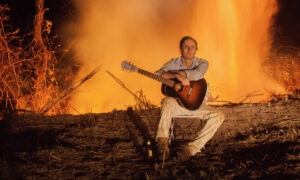 Well I wasn't too sure about what I was going to do after school. I know I wanted to go to uni but I didn't really want waste my time with a course that I wasn't interested in, so I decided to stick with playing the guitar. My Dad actually told me about the course and said it would probably be a good place to improve my playing. I thought I was a pretty red-hot player in high school so doing a jazz course turned out to be a good reality check.
Has Jazz always been a passion of yours, or did JMI further introduce you to Jazz?
So my earliest influence was probably my Dad. He taught me everything he knew and we used to play a lot of music together. We'd play mainly old blues standards as well as some roots and country, so I gained a lot of influence from people like Muddy Waters, Lucinda Williams and J.J. Cale early on. A little bit later I got into the likes of Derek Trucks, Mick Taylor and Buddy Miller to name a few.
I didn't actually start listening to jazz until about half way through my first year of studying. It wasn't something I was immediately drawn to. 'Midnight Blue' by Kenny Burrell and 'Back At The Chicken Shack' by Jimmy Smith were the first two albums that really caught my attention, then I started checking out other guys like Jim Hall, Oscar Peterson, and Miles Davis. My biggest influences at the moment are Julian Lage, Bill Frisell & Blake Mills.
How do you feel learning jazz has benefited you as a musician in the wider musical landscape?
Most of what I'm currently playing is jazz but I still consider myself a blues and country player so being able to understand jazz music has really helped me to better explain and grasp what other players I'm interested in are doing. I'm always amazed at how much similar language I find in different genres. I have been checking out an Irish/Mexican fusion album named San Patricio, and all the bebop language I've learnt fits so perfectly over it, the only difference being the articulation.
Ideally, what skills or goals were you aiming to accomplish by the end of your degree? And do you feel that you are on your way to doing that? 

One of my main goals in the future is to have greater fret-board knowledge. Hopefully this will allow me to better understand and digest any musical concept I come across. Although, when I first started the course I really just wanted to get better at what I was already doing. I didn't realise I'd love playing jazz so much. Throughout second year I was trying to bring my jazz vocabulary into the roots/country stuff I'm into, but now I'm actually trying to do the opposite. At the moment I'm working on getting some really subtle and articulate country licks into my jazz vocabulary and trying to make my solos sound more like actual melodies. Hopefully I'm making progress.
What in your opinion is one of the best parts about the JMI Bachelor of Music in Jazz Performance course?
I think one of the best parts about the course is how the performance subjects are designed. They really allow everyone to hear each other play and so frequently. It makes you feel quite vulnerable but at the same time you realise everyone else is in the same boat. It's an incredibly humbling and valuable experience.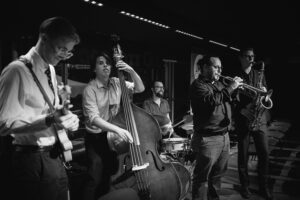 What is your favourite part about JMI in general? What makes it unique or stand out to you?

I think the fact that it's so small makes it very unique. You are able to interact with every student and build a really good rapport with all the staff. I'd say my favourite part is being able to see your teachers outside of class so frequently. Considering that they're all players too, you get to see them around town and at gigs. That's something that I think is pretty special, it really helps build a friendship and then allows your teachers to take a genuine interest in your growth.
Would you recommend JMI as a place to study for future students, and why?
Yeah definitely. If someone is interested in becoming a more diverse and capable musician, JMI is the perfect environment for that. Everything that I have learnt through jazz is applicable to every other genre I am interested in. Obviously it requires a high amount of input but it is extremely doable and rewarding.
And a fun one – what transcriptions or specific techniques are you learning at the moment?
I am currently working on giving my phrases more meaning and have realised how important it is to know when to not play. I think Bill Frisell is a master of this and is why he can get away with playing so little. One of my all time favourite songs and one of my transcriptions is a song by Bill Frisell called Ballroom.

To find out more about our Bachelor of Music in Jazz Performance course and how to apply, click here.