Current student, Georgia Hoskins discusses her experience at JMI thus far
We had a quick chat with one of our current Bachelor students, Georgia Hoskins to discuss her experience thus far studying at JMI and how it has benefited her and her future as a musician.  
Firstly, tell us a bit about yourself. What instrument are you currently learning and when did you first start playing music?
Hi, my name is Georgia and I'm a second-year singer. I've always had an interest in music and singing. Growing up at church, singing was always a regular part of life. I also started played piano when I was a kid, displaying little to no real talent in it, but it was a big part of the development for my love of music.
Why did you choose JMI to do your Bachelor in Music?
I chose JMI because I believed that it would give me the tools necessary to become a well-rounded musician. From what I could tell, it had a good balance of theory and practical music, and as I was equally interested in both, the course seemed ideal.
Has Jazz always been a passion of yours, or did JMI further introduce you to Jazz?
At the time of choosing my course, I thought I had an idea of what jazz was. As it turns out, that idea was a very shallow one, but one of the great things about JMI is that everyone is frequently encouraged to listen to as much jazz as possible. We're all given lots of recommendations of what to listen to and really helps to develop different techniques and get a grasp on the genre.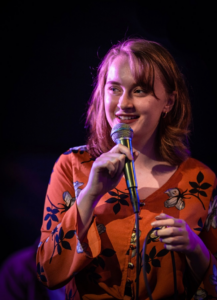 How do you feel learning jazz has benefited you as a musician in the wider musical landscape?
What we learn in the course is applicable to so many genres besides jazz. Learning theory I find is especially beneficial. It allows you to understand what people play or write in a way that means that you can apply that same principle to your own playing or writing, and then develop it in your own way.
Ideally, what skills or goals were you aiming to accomplish by the end of your degree? And do you feel that you are on your way to doing that?
Ultimately, I want to become a teacher, so the goal is to do a few more uni courses after this one, but generally what I learn at JMI is what I am passionate about and will make me a better teacher in the long run.
What in your opinion is one of the best parts about the JMI Bachelor of Music in Jazz Performance course?
The Principal Study lessons are really awesome. We all get to learn from some of the best people in our field and it's just really awesome to be able to do that.
What is your favourite part about JMI in general? What makes it unique or stand out to you?
It's quite small so we basically all know each other and there is a general sense of comradery. JMI just has a very friendly vibe that makes it really pleasant to be a part of. Our teachers also give us a lot of support and really help us to develop as musicians.
Would you recommend JMI as a place to study for future students, and why?
Absolutely. It's just such a good course. All the subject matter is really well thought out and put in the course with the purpose of getting everyone to be the best musician they can be. This combined with the supportive environment, results in you enjoying playing music more.
And a fun one – what transcriptions or specific techniques are you learning at the moment? 
I'm really into the Thelonious Monk and Jon Hendricks version of In Walked Bud, so I'm transcribing a bit of that at the moment.
To find out more about our Bachelor of Music in Jazz Performance course and how to apply, click here.