JMI Alumni Stories: Scott Foley
We asked some of our alumni what they have been up to since they graduated!
Here's what Scott Foley had to say. Graduated 2017.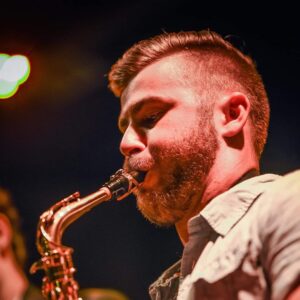 Tell us a bit about yourself. What do you play?
I studied on Saxophone, and still really dig doing gigs and playing that, however since graduating I have been doing a lot of Voice work, which has been a really interesting thing to explore.
What musicians/bands have you been listening to at the moment?
At the moment I've really been trying to go back to some classic players that got me in to Jazz such as Cannonball Adderley and Art Pepper, and have definitely given the 'Basie Big Band' album a few too many listens lately!
What have you been doing since graduating from JMI?
After JMI I went right on to study my 'Master of Teaching (Music),' and graduated! That landed me a job teaching full-time classroom Music, in addition to numerous private instrumental/vocal students. I'm also making time to gig which usually takes place as part of a Big Band, or a lot of the time, in Musical Theatre productions.
What are your future goals in music?
My future goal is definitely to write more. I have a fairly wide variety of genres I'm interested in, from Jazz, Musical Theatre, to more Pop/Contemporary stuff, so I'd love to kind of just sit down and write stuff that lets me explore all of those influences and see where it takes me.
How has studying at JMI helped you to get where you are and towards your future goals?
JMI went above and beyond in helping me build my confidence in basically all musical settings. It's pretty cool to get up at a gig, or go to teach and just feel so comfortable with what you're about to do. Being a musician essentially means that you'll wind up doing numerous things within the field throughout your career, and honestly JMI set me up with so much practical and theoretical knowledge that has wound up becoming useful in any musical setting I have found myself in.
What advice would you have for someone thinking about studying music and especially jazz?
I honestly could not recommend it enough. Music can take you down so many different roads, and is a genuinely rewarding pathway. Studying jazz, however, made me feel so much more prepared on the scene when it comes to playing different genres. Studying a Jazz curriculum trained me to listen, and respond to what was happening around me and gave me such a good theoretical knowledge, and perfectly sets you up for life as a contemporary gigging musician.