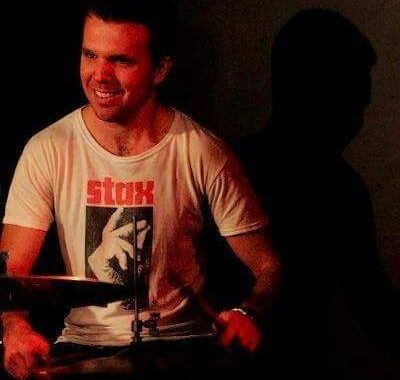 Getting to know JMI Alumni: Steve Powell
In our "Getting to know JMI Alumni" blog series, we speak to our alumni to see what they've been up to since graduating from JMI and what's on the musical horizon for them.  This week we speak to Steve Powell who graduated in 2016.  Not only is Steve a fantastic drummer, he also wrote a drum book while still finishing his degree at JMI!
Tell us a bit about yourself – what do you play? What musicians/bands are you listening to at the moment?
My name is Steve Powell and I play drums.  I also teach drum kit privately to up to 35 students in Carina and Capalaba.  I first started studying at JMI in 2004 and completed the Advanced Diploma.  I returned in 2015 to complete my Bachelor.  Music I've been listening to most recently includes The Go-Betweens, Banda Black (and other Brazilian Funk), Mandrill, Lester Young and Ravel.
Who do you like to listen to locally?
– Scout Quartet
– Ark Trio
https://www.scoutentertainmentgroup.com/
Who would you recommend to listen to for someone who doesn't know too much about jazz?
I guess my best recommendations are the artists and albums that got me into jazz!  They include:
– Clifford Brown
– Erroll Garner (especially his album "Magician")
– Vince Guaraldi (especially the "Peanuts" stuff and "Jazz Impressions of Black Orpheus")
– The Three Sounds
– Grady Tate (anything this drummer plays on is great!)
What have you been doing since graduating from JMI (performing/studying/teaching)?
Since graduating in 2016 I have been focusing on my teaching and building my student base.  I now teach 6 days a week and hold 2 student concerts per year.  I also completed writing my first drumming book in my final year in JMI which was published in March 2015 through Prepared Sounds.  It's called Beat Roots and is a collection of transcriptions of well-known and rare funk, R&B/soul and rock drum breaks and beats from the late 60s to early 80s.  Also featured is a history of the music during this time and drummer profiles.
Links:
http://www.preparedsounds.com.au/store/index.php?route=product/product&product_id=106
What are your future goals in music?
I am aiming to get my own drum kit syllabus together that would include traditional techniques as well as my own lessons that were created for my students.  I would also like to write a second volume of Beat Roots.
How has studying at JMI helped you to get to where you are and towards your future goals?
Studying at JMI has been so important for me not only for improving me as a musician and performer but also giving me the confidence to teach.  As well as giving me a strong foundation in music theory JMI was also a great place to meet and play with other like-minded musicians.
What advice would you have for someone thinking about studying music and especially jazz?
Before I set foot in JMI I had already started listening to jazz and getting to know the different artists and their amazing stories.  As well as listening to the music get to know the different characters and the story behind the music…it's an interesting one!
Other links: