GETTING TO KNOW THE JAZZ MUSIC INSTITUTE PART 3 – DAVID SANDERS
After getting to know some of our Alumni, we thought we'd revisit getting to know the staff at JMI. This week, we spoke to Drum Set Studies Teacher David Sanders!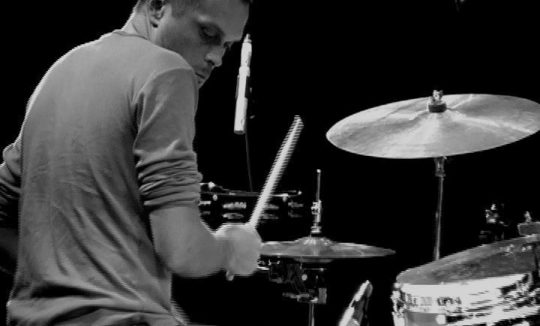 What are you currently teaching at JMI and what do you enjoy most about it?
I teach the drum set studies at JMI. I enjoy getting the chance to share my knowledge and develop a relationship with each and every student.
The fact that JMI students get a 1 hour weekly lesson on their Principle Study instrument allows for the lessons to really focus on what's important.
What would you say are your greatest achievements musically?
My greatest achievement is my musical versatility. I have made it my goal to be a versatile, authentic and musical drummer.
You're going to be teaching at the JMI Summer Jazz Clinics, what  would you say that people could expect to get out of the clinics?
Anyone studying at the JMI Summer Jazz Clinics can expect to meet like minded musicians and learn a great deal in a fun and inclusive environment.
Expect to play music, learn music and have fun with music!
JMI's auditions for next year's entry have now opened up – what preemptive advice would you give to someone who's looking to study tertiary music?
I think the word "Talent" is over rated. If you have the desire and the work ethic you can achieve you goals in music at a tertiary level. An open mind, a willingness to learn and enthusasim to practice will help you along your way.
Are there any musicians or recordings you'd suggest for a jazz novice who wants to start wrapping their head around jazz?
I always suggest that drummers check out "Surrey With The Fringe On Top" by Miles Davis. Philly Joe Jones is the drummer on this track. This one example features the rhythm section (including Paul Chambers on bass and Red Garland on piano) playing a "two feel"on the A sections of head and then a "four feel" in the B section. Philly Joe displays some sublime comping in John Coltranes solo. The whole track is a great introduction to some of the core skills of playing in a Jazz style.
Have you ever taught anyone of particular notoriety or fame?
Over the years many past students have gone on be "in demand " drummers in the music industry. Some include Scott Hills who has played with all the top Australian Country music acts. He really is the 1st call drummer in that scene. Dave Hibbard is another one who is always out and about. He regularly tours with Mahilia Barnes and also The Whitlams.
Aaron Janzs has quickly become the drummer that everyone wants in the Brisbane jazz scene. There's a lot of them after teaching for almost twenty years! I am particularly proud of the fact the my students are known for their versatility and professionalism.
Any great and/or funny stories from previous jazz clinics?
One great thing I have noticed is that students return to these Jazz Clinics year after year. It starts to become a big "jazz family". I now bring my son and his friends. They all have a great time and then start planning for the next one!
And finally for those considering the clinics, why jazz?
Jazz is the teacher and funk is the preacher!
The skills that you develop by learning to play jazz are transferable to any sort of music. You will get to know the music AND your instrument to a much higher level.