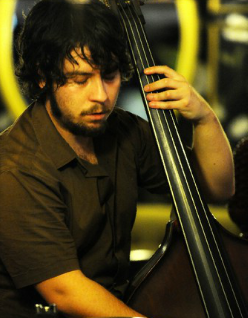 Getting to know the Jazz Music Institute Part 1 – Nick Quigley
Hi friends! We thought it might be time to help you all get to know JMI that little bit better by sitting down with some of the staff and quizzing them on a few things about the school and the world. So we'll get straight to it beginning with Nick, CEO of JMI.
1. How long have you been with JMI?

I've been working at JMI for 5 years in a formal capacity, however it's been a part of my life since I was 10 years old in some way or another. JMI's a family business started by my father in 1996, so I spent all my school holidays working there.
2. What's your role here?

Now I'm CEO of JMI so I'm in charge of the business operations and making sure we're meeting our objectives and reinforcing our values.
3. What do you love most about getting to perform that role at JMI?

The people I meet, whether that's the students, staff or external industry personnel. I particularly love watching the growth of students over a 3 to 4 year period. You make a lot a friends and see people grow both musically and as a person.
4. What's your favourite part of educating the next generation of musicians?

I don't personally teach any of the students, but getting to see them towards the end of the degree and see how far they've come and to see them get rewards for all the effort they have put in is very fulfilling. Seeing a student performing professional gigs with serious jazz musicians after only having started playing jazz music a couple of years before is a great thrill.
5. Why jazz?

I believe jazz encapsulates so much and is such a deep music. Not to say it's better or worse than any other genre but it is definitely different. I feel you have to be very honest in jazz and it's not something you can fake. I feel that once you can competently play jazz, it gives you an ability to quickly analyse and understand music which makes it easier to play other genres of music.
6. Any bragging rights? (Great gigs, working with heroes, getting involved in the community, contributing to a good cause, etc)

I've been very lucky in my position as CEO to be able to play with some amazing musicians that I most definitely didn't deserve to play with including Jamie Oehlers, Dale Barlow, Vince Gardner, Reggie Thomas, Bruce Harris, Joe Farnsworth etc.
7. What are you most excited about seeing at JMI over the rest of the year?

Just more growth from the students. There's definitely more jazz gigs happening around Brisbane in the last couple of years, so I look forward to seeing more JMI students getting out there and performing in public and realising their own goals and ambitions.
8. What is "Covfefe"?

I'm assuming that Trump had that same moment that Homer had on the Simpsons when he gained heaps of weight and when he tried to phone the power plant for an emergency it said "I'm sorry, your fingers are too fat to dial a number". Except for Trump it's "I'm sorry you're to stupid to say anything that makes sense on social media"