The premier choice for music courses in Brisbane – auditions open for 2017 entry
The specialist jazz music school in Brisbane, Jazz Music Institute (JMI), has opened auditions for intake into its 2017 accredited courses.
At JMI we believe that learning music through a jazz curriculum means you learn more about how music actually works.  We do not expect every student to become professional jazz musicians, but we do expect every student who graduates JMI to be a functional musician that understands and has an ability to be flexible and perform in several different music styles and scenarios.  Effectively, we expect to produce employable musicians.
Studying jazz entails a systematic study of the form and structure of music.  By learning improvisation in the musical setting of jazz, musicians must develop an understanding how harmony in Western music works.  The advantages of going through this development are numerous.  The main advantage being that you can recognise chord progressions much quicker which means you are able to understand the harmonic structure of many songs far quicker than without this knowledge.  This is an invaluable skill to develop if you are looking to become a session musician.  If you are more interested in composition, then having a broader understanding of harmony will give you more "colours to paint with".
JMI's Bachelor of Music in Jazz Performance is a 3-year full time music course delivered in Brisbane and endorsed by some of the biggest international jazz artists. This performance-based music course allows students to spend the majority of their contact hours playing their instrument. Each student receives individual one-on-one lessons on their major instrument (voice, guitar, bass, drums, piano, brass or woodwind) supplemented by a variety of music classes that focus on theory, aural skills, improvisation, jazz history and small group ensemble playing.
As John Riley, Internationally acclaimed drummer, publisher, educator, lecturer at Manhattan School of Music (NY) stated, "Due to [JMI's] small size, every student is known by each and every faculty member and receives continuous personal mentorship – which is not possible at a large institution. The JMI classroom and performance space 'incubator' reminds me of my days on Woody Herman's band, travelling every day on the bus, surrounded by great, more experienced musicians, seriously listening, discussing and playing music night and day. JMI is that kind of growth environment and it shows in the competency of your graduates"
JMI students are given many performing opportunities throughout the course, performing music in Brisbane at varying venues, events and festivals.  These opportunities give students invaluable practical experience as a musician. Students also have the chance to participate in jam sessions and networking opportunities with industry professionals from Australia and abroad.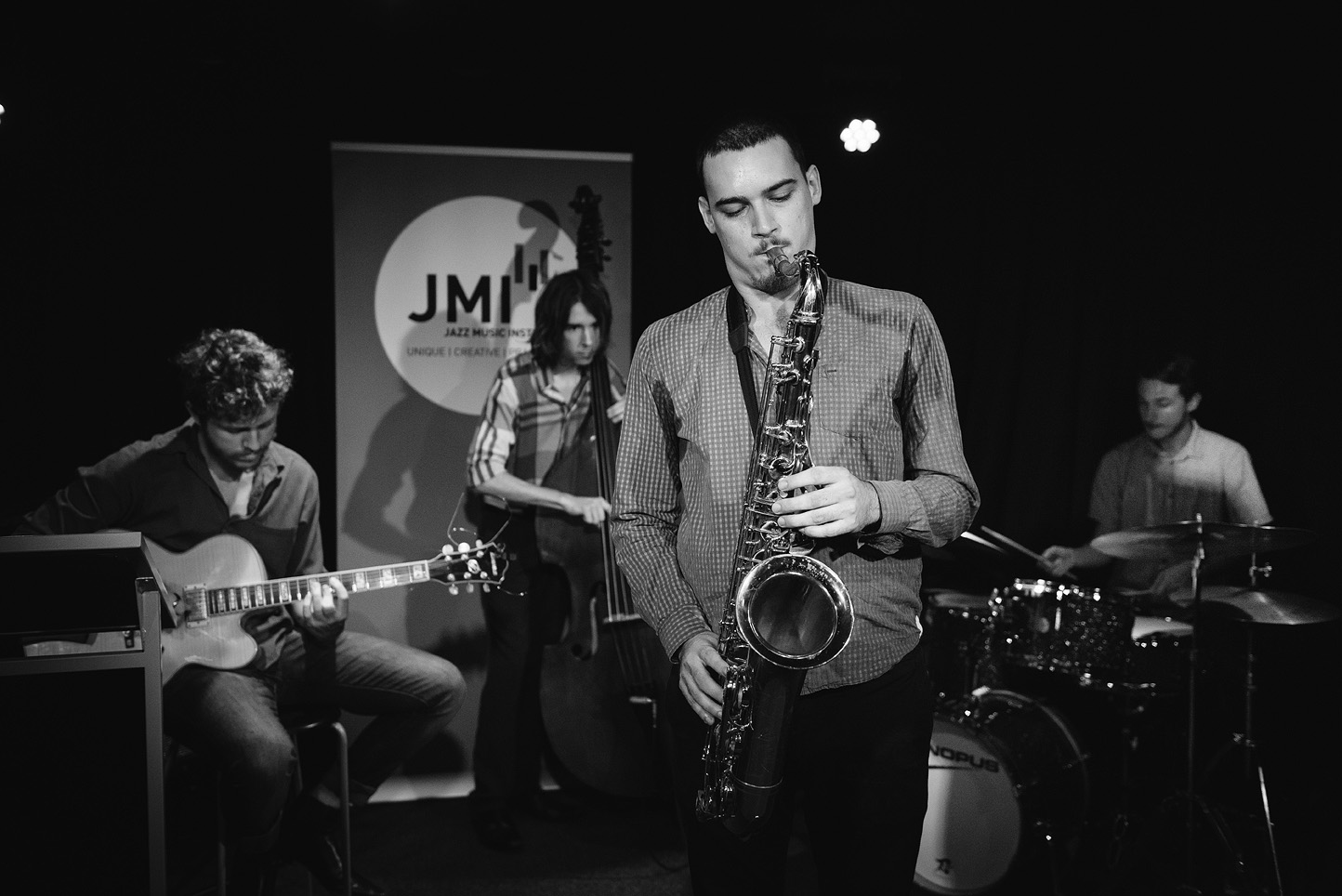 JMI's drum lecturer Dave Sanders added "JMI works closely with both the international and national jazz communities. Its teachers are not only respected educators but are high profile performers who bring 'real world' experience. The degree course offers a level of practicality not seen in other institutions, in a creative and inclusive learning environment. Students gain a holistic music education that focuses not only on their development on their chosen instrument but also arranging, technology and music business, to serve each student well into their career in the creative industries. Jazz teaches versatility and musicality which are key to a long and successful music career. The language of jazz is ever-present in all contemporary music styles and the skills required to play it will serve the musician regardless of the styles they choose to specialise in"
In addition to the undergraduate music courses in Brisbane, JMI also delivers Certificate III and Certificate IV courses in Music Industry specialising in Performance.  The Certificate courses are designed for current Year 11 and 12 students in high school.  The certificate courses are highly practical and taught by JMI's esteemed faculty.  The majority of contact time is spent performing and working through repertoire, learning theoretical and improvisational concepts while learning jazz standards.
One of the great things about undertaking these Certificate music courses in Brisbane is that it can help students achieve their Queensland Certificate of Education (QCE).  Students that complete the Cert III or IV course can gain up to eight credit points towards their QCE.  In addition to this, it is a great way to be introduced to jazz music and prepare for tertiary music studies.  Classes for the Certificate programs are run during school hours on Fridays at JMI's campus in Bowen Hills.
Auditions are available now until mid-January 2017. JMI are offering FREE pre-audition interviews for all prospective students to speak with faculty members, ask questions regarding the music courses in Brisbane delivered by JMI. To arrange a free pre-audition interview, email play@jazz.qld.edu.au or call (07) 3216 1110. Music lessons with staff can be arranged prior to auditions. Plus, if you are unable to complete some of the audition requirements, you may be offered lessons with staff, informal classes, or short courses after your audition to be deemed eligible for entry into the course.