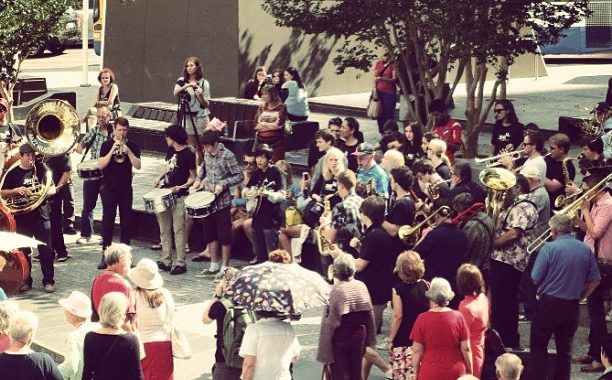 International Jazz Day Celebrations
On the 30th of April 2021, International Jazz Day is celebrating its 10th anniversary as a worldwide cultural event supported by UNESCO.
This year JMI invites you to join in on the jazz festivities this International Jazz Day.
From 4-5PM our New Orlean's Street Band will perform a parade through the beautiful Bunyapa Park in West End.
Come along and perform, dance, clap or sing along to the infectious and joyous sounds of our New Orlean's Street Band.
Afterwards, we will be holding an open jam session from 7-10PM at JMI Live with some amazing hosts.
All are welcome to join.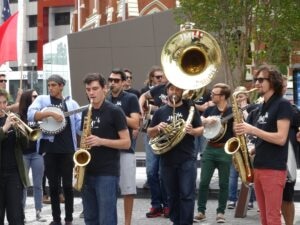 JMI celebrates International Jazz Day annually by putting on events around Brisbane during April. In 2020, JMI was unable to hold any physical events, however in previous years, JMI has held New Orleans-style street parades in various locations around Brisbane including Queen St Mall, King George Square and King St in Fortitude Valley.
We are so excited to announce this event at Bunyapa Park, as many of our students reside in the 4101 postcode and many of our students and staff perform at venues in West End frequently. Here's to appreciating the joy that jazz can bring to a community.
Here are some of the swingin' tunes that we will be playing for you to check out:
The Second Line (Joe Avery's Blues) – The All Star Marching Band
Feel Like Funkin' It Up – Rebirth Brass Band
Do Whatcha Wanna – Rebirth Brass Band
How funky is that? We are so very excited for this event! Come on down from 4-5PM for some swingin' good fun and bask in the sweet sounds of our joyous New Orleans Street Band.
We hope to see you at Bunyapa Park this International Jazz Day (30th April).
Event Approved by the Councillor for The Gabba, Jonathan Sri.