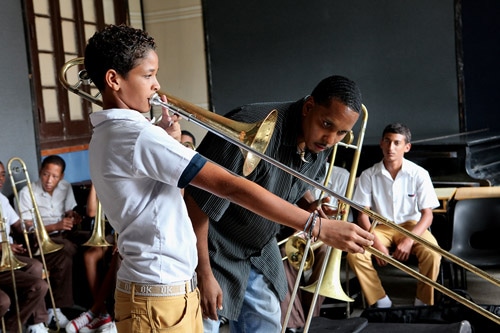 JMI brings out jazz greats from New York to deliver high school festivals and workshops
After two years of delivering the Essentially Ellington Down Under Regional Festival, Jazz Music Institute (JMI) and Jazz at Lincoln Center (JALC) are going around the country again in late-August/September 2018.  In the past two years, over 1,400 Australian high school students have performed in the Essentially Ellington Down Under Regional Festival, receiving direct educational and performance opportunities with some of the world's finest jazz musicians and educators from Jazz at Lincoln Center.  In addition to this, more than 100 Australian music teachers have attended professional development workshops with Jazz at Lincoln Center.
This year, with funding provided by the United States Government, the festival will grow even bigger making its way to all major mainland cities of Australia – Brisbane, Perth, Adelaide, Melbourne and Sydney.  The festival offers high school jazz bands and music directors some excellent performance and professional development opportunities.
The festival involves high school big bands performing music from the Essentially Ellington program delivered by JALC.  Each ensemble is adjudicated by a JALC clinician from the US, receiving a private workshop with that clinician immediately after their performance. Every high school will also receive a recording of their performance with live audio feedback from their JALC clinician so that they can go back after the performance and listen to real-time feedback. This is an amazing experience for young musicians, who get to receive instruction and be inspired by the finest jazz musicians and educators in the world – a rare opportunity indeed!

Essentially Ellington is a program designed to offer high school jazz bands of all levels the opportunity to perform the music of Duke Ellington and other big band composers, and to receive professional feedback from Jazz at Lincoln Center clinicians and other jazz professionals in their own communities. Free resources are provided including transcriptions of the original big band charts composers and band leaders including Duke Ellington, Benny Carter, Mary Lou Williams, Count Basie and Dizzy Gillespie. In EE's 20-year history, Jazz at Lincoln Center has distributed more than 120,000 charts to more than 4,200 schools, reaching over 504,000 students throughout the US and other countries.
The Essentially Ellington Down Under Regional Festival will take place on the following dates:
Brisbane – 23rd & 24th August 2018
Perth – 26th & 27th August 2018
Adelaide – 29th & 30th August 2018
Melbourne – 1st & 2nd September 2018
Sydney – 4th & 5th September 2018
To register for Essentially Ellington and to access the free resources (scores and charts) become a member by signing up to the Essentially Ellington 2017-18 program (it's free!) at www.jazz.org/ee
For more information regarding the Essentially Ellington Down Under Regional Festivals, go to jazz.qld.edu.au/ee