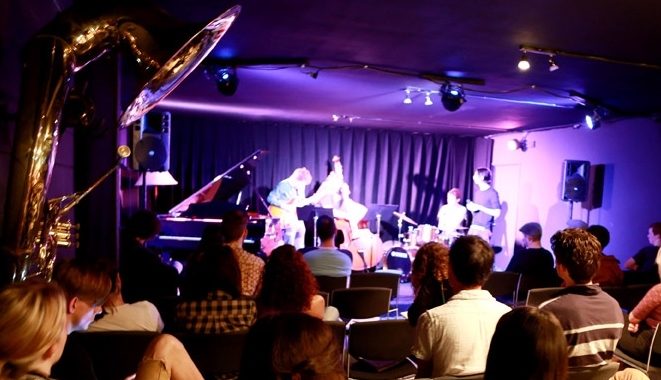 JMI is now offering a 1-year Diploma of Music in Jazz Performance!
JMI has been accredited to deliver a 1-year Diploma of Music in Jazz Performance by the federal regulator of Higher Education in Australia – Tertiary Education Quality and Standards Agency (TEQSA).  We are very excited to be offering this course with entry available for commencing study in 2019.
If you're looking to take music more seriously and want to carve out a career as a performing musician, then JMI's Diploma and Bachelor programs are the best place to start.
As the highest rated creative arts institution in Australia for the educational experience it provides, JMI offers a unique learning experience that you can't get at most other education providers. JMI has small class sizes, providing a community atmosphere that encourages peer support and networking.
JMI's music courses are designed to ensure that each student gains an holistic understanding of how Western music is constructed through a jazz-based curriculum. At JMI, we view music as a language that requires a strong understanding of its rules and syntax to enable greater creativity and expression.
So by studying at JMI, students learn the language of music which gives them so much more depth to be able to express their own musical ideas. We choose to teach this through jazz music because by learning jazz, students learn more about the "why". Why does this chord progression sound good? Why doesn't this melody sound good? By studying music through a jazz curriculum, we believe you learn more about music in general and this will give you the tools to be a better musician in any genre of music.
The Diploma of Music in Jazz Performance is a 1-year full-time music course that will include the same subjects as the first year of our Bachelor program. This will give prospective students that are unsure whether they want to commit to a 3-year degree program the option of just undertaking a 1-year course to start with. Students that complete the Diploma program will be eligible to enter the 2nd year of the Bachelor course if they choose to continue studying.
The Diploma is a performance-based program, where students spend the majority of classes playing their instrument.  Each student will get weekly one-on-one lessons with a nationally-renowned performer and educator on your instrument of choice. Other classes focus on ensemble skills, improvisation techniques, music theory and aural skills. Our faculty is second-to-none and includes finalists and winners of the National Jazz Awards, Freedman Fellowship winners and acclaimed jazz artists.
The Diploma program is also FEE-HELP approved.  FEE-HELP is an Australian Government loan scheme that helps students pay for their tuition fees. Students that are eligible for FEE-HELP will not have to pay any tuition fees upfront – rather they can defer their fees to a HELP loan and will pay this loan off through their tax returns.  For more information regarding FEE-HELP and whether you're eligible, go to the Study Assist website.
Auditions for the Diploma program are now open! Visit our How to Apply page for information on the audition and other entry requirements for the Diploma program.  Information sessions are also available during and outside of business hours for anyone looking to get more information about whether they would be suitable for any courses at JMI. You can contact JMI directly at play@jazz.qld.edu.au to arrange an information session.