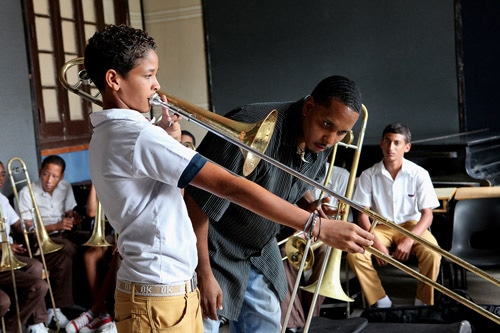 In the Spirit of Swing – Essentially Ellington Down Under
New York-based jazz organisation Jazz at Lincoln Center (JALC) directed by Wynton Marsalis is partnering with JMI again this year to bring out two of New York's finest jazz musicians and educators, Vince Gardner and Jerome Jennings, out to Australia in August 2017 as part of the Essentially Ellington Down Under Regional Festival.
As stated in their mission, JALC is committed to "entertain, enrich and expand a global community for Jazz through performance, education and advocacy".  Through their Jazz Academy, JALC delivers education programs to a wide and varied demographic in an effort to advance the appreciation, understanding and performance of jazz music.
One of these programs is Essentially Ellington (EE).  This program began running in the 1995-1996 school year in the United States.  Its purpose is to support the development of school music programs by making the music of Duke Ellington accessible to as many high school students as possible across the US.  Duke Ellington is one of the most seminal composers and arrangers of the 20th Century, having composed over 2,000 works and performing over 20,000 performances throughout his career.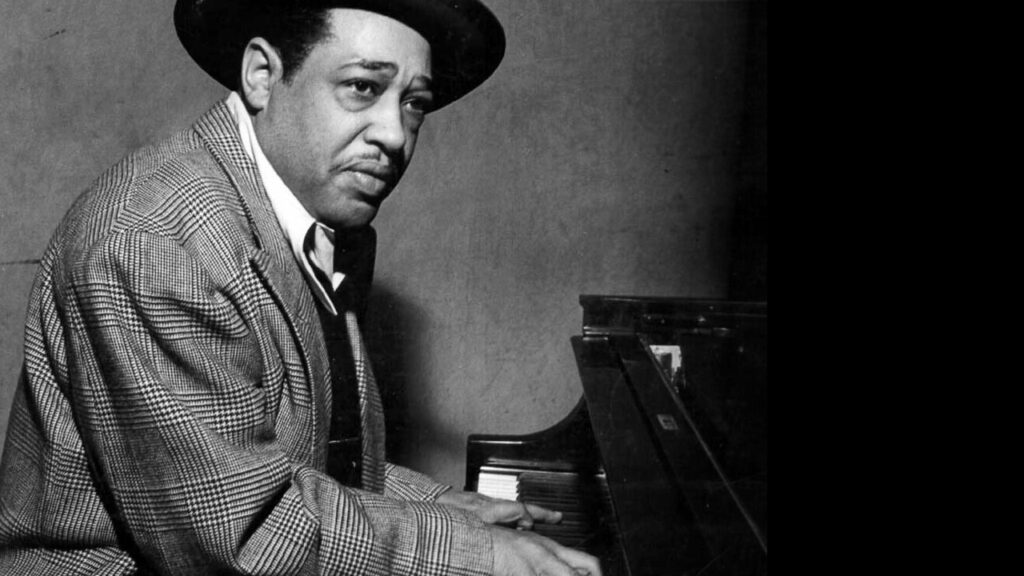 Each year JALC transcribe original recordings of Duke's compositions and provide these charts to schools signed up to the Essentially Ellington program completely for free.  On top of this, the Jazz at Lincoln Center Orchestra directed by Wynton Marsalis record these charts and provide these audio recordings along with the original recording.  Additionally, the Jazz at Lincoln Center Orchestra are filmed performing and discussing the performance of these charts through the innovative software developed by Tutti Dynamics Inc.  All of these resources and more are available to anyone registered  to the EE program.
Amazingly, there are no hidden catches with signing up to the EE program.  There are no costs involved at all, only excellent quality free resources for educational purposes.  You can sign up to the program by visiting www.jazz.org/ee.  In EE's 20-year history, Jazz at Lincoln Center has distributed more than 120,000 charts to more than 4,200 schools, reaching over 504,000 students throughout the US and other countries.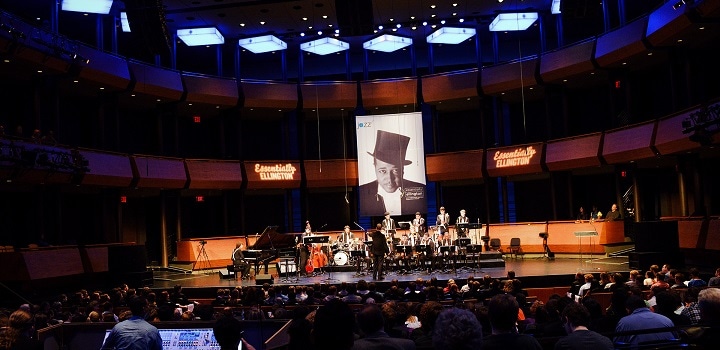 Since 2014, JMI has been partnering with Jazz at Lincoln Center to bring out the EE program to Australia to provide high school students and teachers from around the country with an opportunity to engage with the EE program and all the educational and performance opportunities it provides.
We began the EE Down Under journey by delivering a 2-day teachers conference in 2014 delivered by JALC clinician and Head of Jazz at Northern Illinois University, Reggie Thomas with lead trombonist from the Jazz at Lincoln Center Orchestra Vince Gardner.  Reggie and Vince also visited several schools in Brisbane to deliver workshops with school big bands.  In 2015, the program expanded to providing workshops for high schools in Adelaide, Melbourne and Sydney as well as the teachers' conference and high school workshops in Brisbane.
In 2016, JMI and JALC ran the first nation-wide Essentially Ellington Down Under Regional Festival to great success.  Over the period of two weeks, the festival gave performance and educational opportunities to over 600 high school kids and over 100 music teachers across Brisbane, Perth, Melbourne and Sydney.  Some of the music directors that attended the festival said it was the greatest educational and performance experience they have ever had.
This year promises to be even bigger and better, with the Essentially Ellington Down Under Regional Festival making its way to all major mainland cities of Australia – Brisbane, Perth, Adelaide, Melbourne and Sydney.  Once again each city will host a high school big band festival where each ensemble is adjudicated by Jazz at Lincoln Center clinicians, receive an audio recording with verbal feedback and receive a private workshop with their adjudicator immediately after their performance.  Following the big band festival is a full day jazz workshop open to musicians, educators and students designed to look at ways to learn, educate and perform swing music.  The workshops are also delivered by the two Jazz at Lincoln Center clinicians.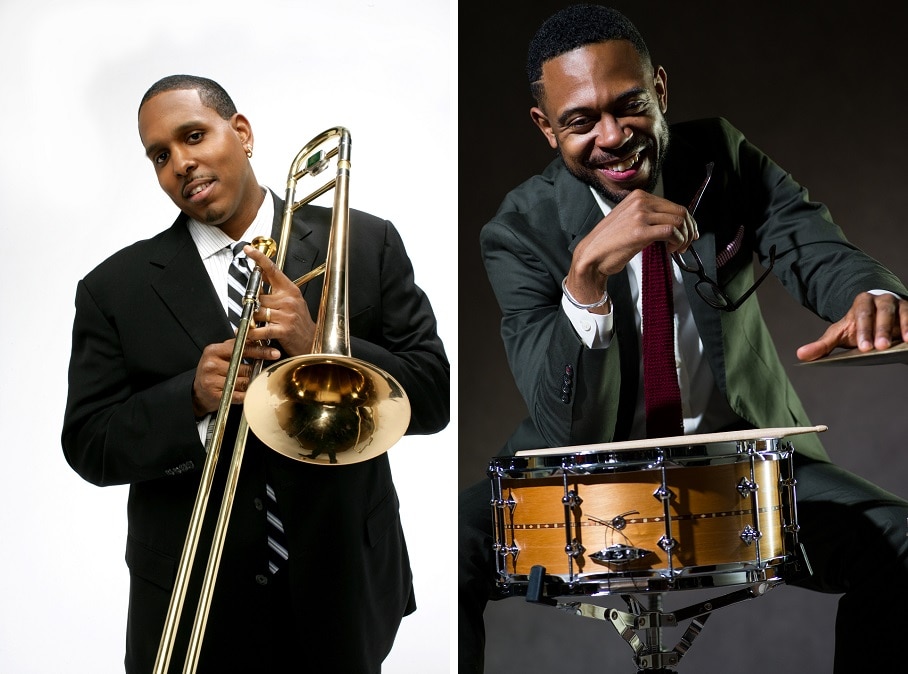 This year we are also very excited to announce that New York drummer and educator Jerome Jennings will be joining Vince Gardner as the Jazz at Lincoln Center clinicians coming out to Australia.  Jerome is one of New York's most in-demand drummers, currently the drummer in Christian McBride's renowned trio.  In addition to being a leading musician on the New York jazz scene, Jerome is also a passionate educator who has a deep love for the history and importance of jazz music.  He has been delivering JALC's Jazz for Young People program as well as being the teen mentor, ensemble coach, and drum instructor for NJPAC (New Jersey Performing Arts Center). He is also an instructor, ensemble leader for Lincoln Center's JALCYO (Jazz At Lincoln Center Youth Orchestra) programs.

To find out more information regarding the Essentially Ellington Down Under Regional Festival, visit the Essentially Ellington page on the JMI website – www.jazz.qld.edu.au/ee.  For more information about events and music in Brisbane, check out the "What's On" page on the JMI website.
JMI is the only music school in Brisbane that delivers courses and classes specializing in jazz performance for musicians of all ages and abilities.